Posted by Julie on 10th Apr 2020
For those who love pecans, you know that having a great pecan company you love to use is a great resource. Your pecan company is who you rely on to provide you with all those delicious pecans you use for pecan pies, pecan snacks, roasted pecans, and pecans you'll use to mix into your savory dishes. So, if you don't have a pecan company you trust yet, do you know what to look for? 4 things to look for in your trusted pecan company are: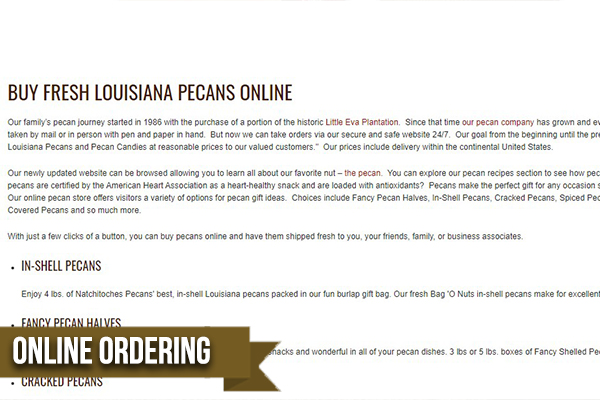 1. Online ordering – Sometimes you'll want to order pecans to replenish your stores, and maybe you want to pick up a few treats along the way. Sure, you can go to the store and have your pick, but what if they just don't have what you're looking for? Now you've wasted a trip and you're still without the pecans you need. Online ordering allows you to resupply your pecan stores with the tap of a smartphone or the click of a button!
2. Plenty of variety – When you go to the store, you might only find a few pecan varieties. Not just this, but you may be stuck choosing only pecans – no pecan candies, gifts, books, or anything else you might like. Your pecan company should have plenty of variety to offer you the full range of what makes pecans a true piece of Louisiana culture.
3. Lots of history – The historic pecan orchards of Louisiana are those that are tried and true. They've mastered the art of growing and harvesting pecans over the course of generations, and you know you can trust their quality and freshness.
4. Gifts galore – Sometimes it's not just about the pecan, but all the things you can do with it. If you're looking for that perfect gift, pecan gifts might be just what you're after. The right pecan company will have gifts galore to treat any recipient.