Posted by wernuts2 on 19th Apr 2019
Did you know that April is National Pecan Month? Well grab a handful of pecans and sit back while we tell you about this very natural, healthy, and convenient snack option.
Just eating one serving of pecan halves approximately fifteen to twenty halves packs a lot of power. They contain more antioxidants than any other nut variety and have even been found to help reduce your risk of heart disease while also effectively lowering your cholesterol levels. Since people are snacking more and more, they need to find better alternatives to the salty chips and sickly sweet snacks they are used to. Healthy snacks are needed more than ever, especially for children too.
Where can I buy pecans, you ask? They are available for purchase online and are guaranteed to be fresh.National Pecan Month was established back in April of 2001 and was proclaimed in the United States Congressional Record. So even though we most often associate pecans with the holidays and fall, April is a time to celebrate this powerful and nutritious nut as well.
Where Can I Buy Pecans?
Pecans can easily be purchased online and come as fresh as you would expect. With so many varieties to choose from, you will find that you will never get bored with this healthy snack. Fresh Louisiana pecans online can be found in fancy pecan halves, in-shell pecans, cracked pecans, and even pecan meal. They are great as gifts for any occasion, and with just a few clicks of a button, you can find yourself rolling in pecans for you and your family to celebrate National Pecan Month.
Specialty Items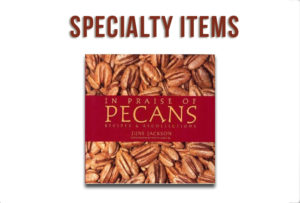 If you are looking for something with a bit more pizazz, there are plenty of specialty items you can find online as well including pecan favorites cookbooks, pecan oils, and even praline candy mixes so you can make your own sweet treats.
If you want to learn even more about pecans and the benefits they have to offer, then the Praise of Pecans book by June Jackson is a good place to start. It is an illustrated book that starts with the development of pecans and their history and other facts, and it also includes over 100 delicious recipes you can try at home. What better way to learn all you can and embrace the pecan during the month of April?