Posted by wernuts2 on 11th May 2018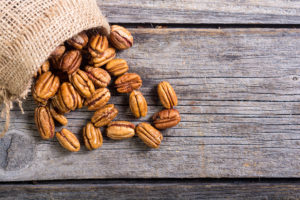 Father's Day is coming up fast and if you're struggling to find the perfect gift for the father in your life, don't worry. We know that shopping for Dad can be pretty tough. However, at Natchitoches, we have a variety of Father's Day gifts any pop will love.
Here are some of the gifts that we recommend to give you an idea of what to get your own Dad:
 
  There's nothing more satisfying than cracking a pecan fresh from the shell. Sending your dad a box of our fresh pecans is great. Throw in an
Effortless Nutcracker
and you have a wonderful gift pack that anyone will love.  
  Our Pecan Candies Foil Gift Bags are a great option. They come in a variety of flavors including chocolate, cinnamon, cane, and honey. We also offer more exotic flavors like rum, Grand Marnier, and praline pecans. No matter what flavor your Dad loves, you can find something for them. We even
offer them in sugar-free to meet any dietary requirements
. The best part is they come in perfect foil packages, so you won't have to worry about wrapping them.  
  Is the Dad in your life a foodie? Then give him a bottle of pecan oil. Pecan oil is a rare oil that has a variety of uses. It has one of the highest smoke points of any oil at 470°F, so he can really experiment with some recipes. Pair with a
Clementine Hunter tea towel
and really give him the gift of the South.  
Pecan Gift Tin
  Our gift tins come with four of our most popular flavors of pecans. The golden tin features a sketch of the Cane River Plantation and inside are chocolate, cinnamon, old-fashioned cane, and fancy pecan halves. If you really want to treat your Dad to something special, we can put together a custom gift tin with whatever flavors you think he will enjoy the most.
Simply contact us and we'll help build the perfect gift box for him.
We know that shopping for Dads can be a bit tricky, but with
Natchitoches Pecans
, you're sure to get him something he'll really enjoy. Make sure to also check out our Clementine Hunter inspired items, her
Gone Fishing
pieces are especially popular with the fathers in our lives