Posted by wernuts2 on 3rd Aug 2018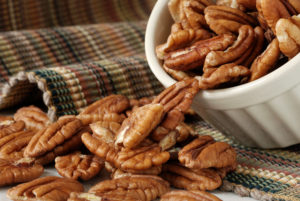 Many holidays remain in this calendar year, but one celebratory occasion that often gets overlooked is Grandparents day. When people wait until the last possible minute to purchase gifts, grandma and grandpa are the unfortunate recipients of unthoughtful, unuseful presents. So, mark Sunday, September 9, 2018, on your calendar to ensure that you don't forget the special occasion, and start hunting down the perfect offering today.
If the individuals are pecan-lovers, give them one of our pecan gifts to satisfy their cravings.
 
Pecan Gifts Worthy Of Your Consideration
  1. Clementine For The Holidays Pecan Gift Box This bunch of goodies is named after Clementine Hunter, a famous Louisiana folk artist, who was born right here on Little Eva Plantation. The assortment includes... • 1 – Wooden Recipe Card • 2 – Gourmet Pecan Log Rolls • 1 – 12-Ounce Bag Of Natural Pecan Halves • 1 – 12 Oz Pack Of Chocolate Pecans • 2 – Pecan Fiddlesticks • 1 – 12- Ounce Bag Of Cinnamon Spiced Pecans • 1 – 12 Oz Pack Of Old Fashion Cane Pecans This delightful, tasty present has a little bit of something for everyone to enjoy. Perhaps, if grandchildren are lucky, they may even be able to talk grandma and grandpa into sharing. These pecan gifts are available year-round, so don't hesitate to place an order whenever the need arises. 2.
Pecan Candies
Gift Tin The Cane River Pecan Candy Sampler, 1-pound, features four popular flavors that people can't seem to get enough of, including natural halves, cinnamon spice, old fashion cane, and chocolate pecans. With so many choices, grandparents will be able to find their favorite ones quickly. Plus, after all of the yummy treats have been devoured, the tin can be reused or kept as a keepsake. For those patrons looking for something a little bigger, we also offer a 2 lb tin option. These pecan gifts are also available all year long, so feel free to order one at any time. 3. Effortless Nutcracker As people age, arthritis set in, and even doing simple tasks like cracking pecans becomes difficult. If your grandparents enjoy removing shells, but their hands don't entirely cooperate anymore, think about giving them one of our high-quality nutcrackers to aid in the process. It features a conical shaped design, sturdy handles, and only requires a minimal amount of pressure to crack pecans. The devices can be ordered year-round and shipped anywhere.