Posted by wernuts2 on 16th Mar 2018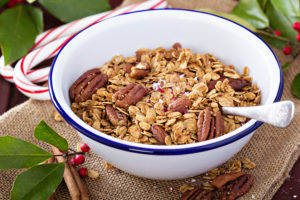 If you're anything like us, you love snacking on roasted pecans. We offer a great variety of delicious flavors of roasted pecans, but they are also incredibly easy to make at home. If you are looking for something a little more unusual, you've come to the right place. We've put together a list of ten unique flavors of roasted pecans you can make at home. These tempting snacks are sure to delight any adventurous foodie.
The following recipes all use 3 cups of shelled Natchitoches pecan halves, following our classic roasting techniques:
1. Vanilla Chai Spiced:
3 TBSP honey 2 tsp vanilla extract 1 ½ tsp ground cinnamon 1 ½ tsp freshly grated nutmeg 1 tsp cardamom 1 tsp ground ginger 1/2 tsp salt ½ black pepper
2. Cajun Style
2 Tbsp butter ½ light brown sugar ¼ cup apple cider vinegar 2 ½ Tbsp Cajun seasoning or 1 tsp paprika 2 tsp chili powder 1 Tbsp cumin or your favorite homemade Cajun spice recipe blend
3. Rosemary Chipotle
2 Tbsp fresh chopped rosemary 1 tsp chipotle powder (more if you like them extra spicy) ½ tsp salt 2 Tbsp maple syrup 1 Tbsp orange juice
4. Gingerbread
1 tsp coconut oil 2 Tbsp maple syrup 2 Tbsp molasses ½ tsp ground cinnamon 2 tsp ground ginger
5. Moroccan Spiced
2 tsp cumin 1 tsp curry powder 1 tsp chili powder 1 tsp smoked paprika 1 ½ tsp salt ¼ tsp cinnamon 1/4 cayenne 3 Tbsp maple syrup 1 Tbsp olive oil
6. Coconut Curry
¾ cup of sugar 2 Tbsp waters ⅓ cup unsweetened coconut flakes finely ground 1 tsp curry powder
7. Honey Sriracha
2 ½ Tbsp honey 1 Tbsp Sriracha sauce 2 tsp vegetable oil 1 tsp salt
8. Garam Marsala
2 tsp vegetable oil 2 tsp garam masala ¾ tsp salt Pinch of cayenne pepper
9. Chinese Five Spice
1 large egg white ¼ cup white sugar ¼ dark brown sugar 1 Tbsp soy sauce 1 Tbsp Chinese Five Spice 1 tsp salt
10. Cocoa Cardamom Espresso
½ cup sugar 2 tbsp unsweetened cocoa powder 2 tsp espresso powder 1 tsp ground cardamom 1 egg white 1 Tbsp vanilla extract Mix all the ingredients together and coat the pecans, then roast until the pecans become slightly browned. These recipes make great snacks for you or gifts for your loved ones. Remember, for the flavors to truly come alive, only use the freshest, high quality Natchitoches pecans in your recipes.