Posted by wernuts2 on 24th Oct 2015
Our pecan orchard is in warp speed this time of year gathering our fresh Louisiana pecans signifying the start of the 2015 pecan harvest at Little Eva Plantation. Within the last previous two to three weeks the orchard floor has been cleaned of many broken limbs clearing the ground beneath each tree which enable the pecan harvesters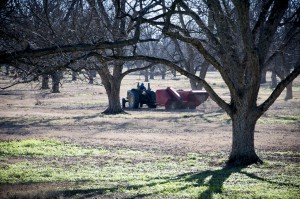 to not miss a pecan as these machines go around and around each tree gathering nuts beneath the trees.
Each variety is typically harvested individually. - Candy variety is an earlier maturing nut and is usually always harvested first. Then comes Elliott, Desirable, Branch, Stuart, Caddo, Sumner and Melrose. When the pecan harvester's bin is full, the nuts are dumped into a pecan wagon.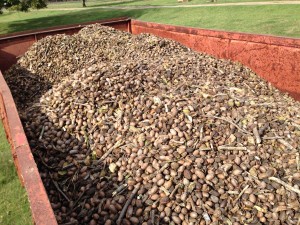 Next stop is the cleaning plant. Once the filled pecan wagon arrives at the cleaning plant, the nuts are dumped into a pit and are then carried by conveyors and various elevators up and down and around and through the dirt machine where dirt clods and large sticks and other debris are removed and blown into our trash trailer. Next the pecans make their way to the Savage in-shell color sorter.
Savage Sorters employ high-resolution color cameras and highly specialized color-sorting software to identify and separate stick-tight nuts and other light debris. In a split second the machine uses a small blast of air to separate them out from the good-product flow. The sorting criteria is completely adjustable on the simple-to-use touch-screen computer terminal. Even novice computer users can learn the simple tasks involved.
After color sorting, the pecans proceed to the Savage pecan sizer where they are sized and then bagged in bulk bags and labeled as to variety, size, date of harvest, and what section of orchard the bagged pecans came from. Filled super bags are then moved into the warehouse. Next week I will blog about the cracking and shelling process.