Posted by wernuts2 on 23rd Sep 2016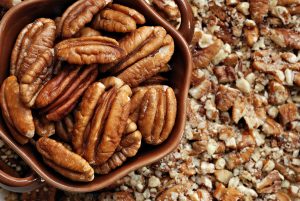 The holiday season is around the corner. Enjoyable moments are shared either from the excitement of gifts or to getting to spend time with family. In addition, everyone knows the best part of every holiday celebration is the delicious treats to feast on. Therefore, pecan recipes are a must have on hand item for this time of year.
Looking to make an impressive dish this holiday?
Why not make a treat that combines delicious taste with the health benefits of Louisiana pecans.
Here are just a few pecan recipes that your family and friends won't be able to resist this holiday season.
1. Nutty Pecan Bark Treat
This pecan recipe is easy to make, absolutely delicious, and healthy too! Nutty Pecan Bark will excite everyone whether you are giving them as a gift to your friends or are cooking them up for everyone. In addition if you have a few chocolate lovers in the family, try tossing in a few chocolate chips for some extra sweetness.
2. Cocoa Spiced Pecans
Want to spice up your holiday evening? Then the solution for that are Cocoa Spiced Pecans. You can also sprinkle these pecans over one of your favorite salads or just snack on them throughout the day. If you are really looking for some fiery flavor, try increasing the cayenne pepper for a little holiday fire.
3. A Simple Pecan Log
When it comes to the holiday season, there is nothing that beat the classics. A Pecan Log exhibits the perfect combination of fluffy cherry-laced nougat with the crunch of fresh caramel and pecan pieces. Don't have a lot of time on your hands? No problem! This classic dessert is quick, easy to make, and is one mouth-watering treat you do not want to miss this holiday season.
If you need pecans for your holiday treats call Natchitoches Pecans. We supply the high-quality Louisiana pecans that make every holiday a delicious experience. From our fancy pecan halves to our pecan meal, you can easily find the pecans that you are looking for with only a few clicks of a button.