Posted by wernuts2 on 5th Oct 2018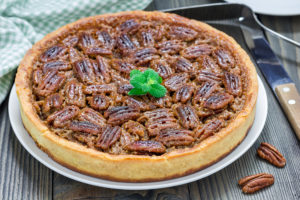 Pecan meal is a lot like pecan flour, and our
pecan meal
contains all of the freshness, flavor, and texture of our world famous
Louisiana pecans
. The big difference between meal and flour has to do with texture, and pecan meal is naturally a bit more coarse than the pecan flour you're like to bake with. However, a few seconds in a food processor can turn it into pecan flour ready for baking in just a tap.
Pecan meal in its coarser form makes a welcome addition to many dishes, and 4 ways to use pecan meal include:
1. Pie topper
– Pecan meal makes a perfect pie topper, and if you're looking for that perfect crumbly crunch, it's pecan meal you want to get your hands on! It's not just pecan pie that the meal can be used with, it also works beautifully on top of an apple crumble, a peach pie, maple tarts, and just about any other type of pie you think the flavor of pecans will marry well with.
2. Cake topper and fille
r – Ask just about anyone what their favorite part of an ice cream cake is, and you're like to hear about the crumbly cookie filling separating the layers! Pecan meal gives you that same crunch, and it's a healthy and delicious alternative that can be added to any type of cake in any layer or iteration. One unique way to use pecan meal is to incorporate it into the crust or topping of a cheesecake.
3. Savory baked dinners
– Almond crusted chicken, fish, and pork are a big deal in upscale restaurants, and many don't realize that pecan meal gives you the ability to make dishes just like these in your own home. It gives the same healthy crunch, but with the buttery, rich, and decadent flavor of pecan. Simply mix the meal with your favorite spices or herbs, and use the meal to crust savory protein courses for a whole new take on dinner.
4. Pecan veggie burgers
– Meatless burger options are a great way to satisfy the entire family, and pecan meal is a unique take on the traditional veggie burger. Simply mix the meal with mushrooms and onions and sauté in a hot pan until onions are cooked and translucent. Add in miso and tomato paste, cook for an additional 5 minutes, then allow the mixture to cool. Add panko and egg to the mixture and form into patties, which are then cooked for 5 minutes per side. Want to really play up the pecan flavor? Serve with sweet potato fries and a maple based dipping sauce!