Posted by wernuts2 on 13th Dec 2019
The perfect gift is a thoughtful gift and a gift that your recipient might not see every day. Whether you're looking to impress a client, a boss, your loved ones, or anyone, our pecan store online has something that is sure to delight! For the person that has everything, have they ever tried the authentic flavor of true Louisiana pecans?
5 perfect gifts you can buy at our pecan store online are:
1. Custom corporate gift boxes –
If you're looking for a company gift that is sure to impress your important clients, custom corporate gift boxes are just the thing. This is a gift that can be shared amongst an entire office or team, and you can really use your creativity to work with us in crafting just the perfect box. Customization doesn't stop at what you put into the box, and we can make your custom box to any size you'd like.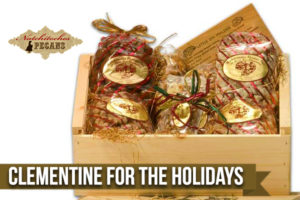 2. Clementine for the Holidays Pecan Gift Box –
This gift box comes packaged in a beautiful wooden box with lid, and it gives your recipient all bits of sweetness fresh from Louisiana. Pecan log rolls, natural pecan halves, and chocolate pecans are just some of the goodies your recipients will find inside!
3. Sampler gift tin –
This sampler gift tin weighs 1 pound, and features 4 different types of pecans for your gift recipient to enjoy! Natural, chocolate, cinnamon spice, and old fashioned pecans are sure to give them just the delicious taste of Louisiana you want to communicate.
4. Ms. Rita's Praline/Baker's Special Pecan Gift –
Gifting to someone who loves to bake? Give them what they really want to embrace all the flavor that pecans bring to their goodies! Included is a pecan lover's cookbook, so they have inspiration for new tasty baked goods right at their fingertips.
5. Cotton Mural Mug –
Maybe they already love pecans, they enjoy them all the time, but they're interested in the culture that surrounds this taste of Louisiana. Inspired by Clementine Hunter's paintings, the Cotton Mural Mug is perfect for sipping tea or coffee while they're munching on their favorite pecan treats.