Posted by wernuts2 on 30th Sep 2016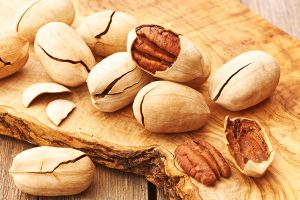 Having trouble finding a unique gift for a beloved friend or family member? Looking for something healthy to share with the kids this holiday season? Want to impress that special someone who seems to have everything?
Look no further than a delicious bag of cracked pecans!
1. Nutrient Density At Its Best
With all the sugar filled treats being passed around this holiday, your body is sure to be craving something will a little more substance and pecans have just that. Pecans contain more than 19 vitamins and minerals including calcium, folic acid, magnesium, phosphorus, potassium, vitamin A, vitamin E, zinc, and several types of vitamin B. If you have a friend or family member who is trying to lay off the sugary treats, they are sure to be overjoyed with your healthy, but tasty snack option.
2. Reduces Your Risk Of Illness
The Journal of Agriculture and Food Chemistry has stated that pecans rank the highest among all nuts when it comes to antioxidant capacity. Antioxidants provide your immune system with a little extra boost by helping protect against cell damage. It has even been believed that it could help prevent a wide range of diseases including cancer, Alzheimer's Disease, Parkinson's Disease, and heart disease. In fact, the American Heart Association have certified pecans as a heart healthy snack.
3. Perfect For The Person Who Has Everything
We all have that one person who is tough to buy for. You want to give them something meaningful, but they already seem to have everything they need. Look no further than a bag of tasty cracked pecans! Not only is this a delightful treat, but it is sure to impress your special someone this holiday season.
4. Makes For An Awesome Stocking Stuffer
Need something tasty to fill the stockings? While most people end up filling their children's stockings with sugary candy and cheap toys, you can really make a great impression on your kids with some delicious
cracked pecans. These nuts make an amazing on-the-go snack that will encourage healthier eating over the holiday season. Additionally, adult holiday goers will be excited to find these in their stockings too.
5. Great For Cooking
While cracked pecans do make for a great snack, they can make for some pretty tasty cooking too. If you have a family member or friend who just loves cooking up a healthy treat, then they won't be able to resist this versatile ingredient. Since you are sure to get a few bites of their delicious pecan cuisine, the gift of pecans is one that just keeps on giving.