Posted by wernuts2 on 6th Oct 2017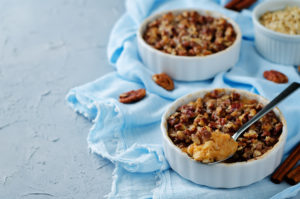 Let's face it, pecans are delicious. We can all agree there. As much as we love to eat them in their natural state, pecan pie comes in as a close second. But where do we go from there? Take your culinary skills beyond the
candied-pecan
and think outside the box (or bag…or tin).
1 - Buy Me Some Pecans And Cracker Jacks. Chances are, you'll only get the original if you go to the ballpark, but you can make your own at home with the humble peanut taking a backseat to the pretty (and pretty yummy) pecan. Butter, brown sugar, molasses, and popcorn work together to create old-fashioned food art and the addition of pecans makes it a masterpiece.
2 - The Perfect Pecan Pesto. Basil, parmesan cheese, olive oil, garlic, and nuts. These are the standard ingredients for a
basic
pesto. Typically, pine nuts are the chosen nut, but not everyone has them sitting in their pantry because, frankly, what else can you use them for? Thankfully, you'll always have pecans, so substitute them in and take the flavor to a new level.
3 - Skip The 11 Herbs And Spices. The colonel might be well-known for his herbed-up breading, but you can make chicken taste just as good at home by using a pecan coating. Grind them up and swap them in where you would normally use flour or breadcrumbs. It's an excellent way to get more nutrients into your meal and it's perfect for those with gluten allergies.
4 - Kung Pao Chicken Gets A Makeover. The popular nut in this classic Chinese dish is peanuts, but by making a simple switch to pecans, you impart a new depth of flavor that's just as tasty and delicious. Choose any recipe you like. After the chicken and veggies are cooked and the sauce begins to thicken, toss in a handful of pecans and stir.
5 - An Upgrade To A Classic Cookie. While we're speaking about Chinese food, here's a dessert that can finish off any kind of meal. Classic Chinese Almond cookies get amped up with the deep flavor of fall when you swap out almond extract for maple extract (or flavoring) and press a beautiful half pecan on top of each one. So pretty and delicious.
Grab a 5-lb bag of our Pecan Pieces, pick a recipe, and experiment today. Because life is better with pecans.