Posted by wernuts2 on 5th Jul 2019
Last year, an online survey was conducted to find out which ice cream flavors were the most popular across America.
You can imagine that since we're all about pecans, from our orchards to our fresh pecans for sale, we're pretty pleased by the results.
• Coming in at #1 was chocolate – an understandable given.
• Coming in at #2 was vanilla – not too surprising, since it makes the perfect base for a sundae.
• Coming in at #3 was butter pecan – we could have told you that. The most popular topping turned out to be hot fudge, accounting for a whopping 43% of the votes. This was followed closely by nuts, at 34% of the vote.
Pecans are always an excellent ice cream topper, regardless of the flavor they reside on. Many ice cream companies produce a version of butter pecan ice cream, and it continues to be one of Baskin Robbins' 31-flavors. Some companies like Ben & Jerry's have even taken it up a notch by offering a Bourbon Pecan Pie flavor.
Age And Area Make A Difference
It seems that grownups, AKA those over 55, have a special place in their hearts for this ice cream flavor that's been around for decades. After all, the 1970s were a thriving time for this buttery and nutty confection. The youngsters (age 18 – 34), however, seem to prefer the indulgence of cookies n' cream and chocolate chip cookie dough. But we figure, if you're going to add pieces of something into your ice cream, why not just add pecan pieces? When it comes to different areas of the U.S., mint chocolate chip ice cream is extremely popular in the northeast, while rocky road is big in the west. But the fact still remains that chocolate, vanilla, and butter pecan reign supreme all over.
Use Fresh Pecan Pieces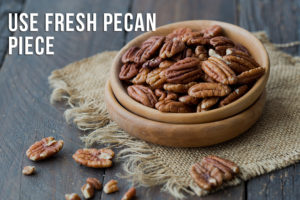 If you're getting a craving for butter pecan ice cream, try making some at home this summer. There are many different recipes out there that can be used in a standard home ice-cream maker, but there's only one pecan that can make all the difference in how it tastes. We have fresh pecans for sale that will be the standout in whatever recipe you find. Our pecan pieces will blend in easily and make the prettiest ice cream you ever did see. Make it a new a summertime favorite for all.