Posted by wernuts2 on 14th Feb 2017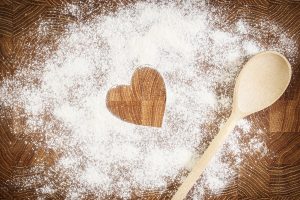 One of the best ways to show your love for the special someone in your life is with a homemade treat. The time and care put into making something special from scratch shows so much love and appreciation.
Plus, when you make something from scratch, you can ensure that your significant others really receives something they love.
In order to help you figure out what delicious goodie to make your love this Valentine's Day, we've collected some of our favorite romantic pecan recipes.
Baked in a heart-shaped pan, and tops with thick chocolate ganache, this gorgeous cake is the perfect recipe for saying I love you. This impressive looking cake mixes the beautiful flavors of pecan and coconut. It's perfect for the last course of a homemade Valentine's meal or a surprise treat to have waiting at home for after your night out together.
A great gift idea is a homemade box of candies. Our pecan ball recipe is perfect as a standalone candy or mixed in with a variety of other sweets. A mix of chocolate, butterscotch, bourbon, and pecan is a decadent and rich flavor that will impress anyone. Imagine the delight of your special someone when you present them a beautiful tin, wrapped in a big bow, filled with handcrafted sweets.
Homemade brownies are one of the best Valentine's treats you can make for your love. This recipe takes the classic brownie to new heights with the wonderful balance of salted caramel and pecans. Cut into heart shapes, these brownies can be served as part of your meal or wrapped in cellophane or a decorated box and gifted. No matter how you present them, your Valentine will swoon over this delicious brownie recipe.
If you are looking for a perfect homemade Valentine's treat or even something to take into the office or serve at your children's Valentine's Day party, these delicious cookies are perfect. These cookies are simple enough for even the least skilled baker to make, but are adorable enough to make anyone swoon. To make any of these Valentine's day recipes really shine, make sure to only use the finest ingredients including Natchitoches Pecans. Our pecans are the best, most flavorful pecans in the world. They come in a variety of options to meet all your baking needs and will ensure that no matter what you make, your Valentine will love the flavor of your homemade treat.