Posted by wernuts2 on 29th Nov 2019
Thanksgiving is definitely one of our favorite holidays. It's a wonderful time to get together with your family and friends, show gratitude, and share a delicious meal. Pecans are one of Thanksgiving staples. This rich, buttery flavor is the perfect complement to your candied yams, cornbread, and of course, your famous pecan pie from pecans in the shell. They also make for great appetizers to delight your guests while they wait for the show stopping turkey to come out of the oven.
Here are some of our favorite Thanksgiving appetizers, that are easy to make but will impress your guests.
Pecan Baked Brie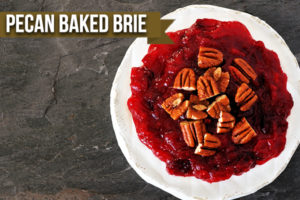 This easy recipe is extremely fancy, but only takes a little effort to make. Ingredients: 1 cup pecans lightly toasted 1 wheel of Brie ½ cup of butter ½ cup maple syrup Salt and pepper Crackers to serve Instructions: 1. Heat the oven to 350°F. Cut the top layer of rind off the brie. Bake for 15 to 20 minutes until the cheese begins to melt. 2. In a saucepan, add the butter, maple syrup, and pecans and cook over medium heat for 3-4 minutes until gooey. 3. Place the brie on a serving platter and pour the pecan mixture onto. Add salt and pepper to taste and serve with crackers.
Pecan Stuffed Bacon Wrapped Dates
The mix of sweet dates, salty bacon, and buttery pecans cannot be beaten with this easy appetizer. 20 pecan Halves 20 pitted dates 8 slices of bacon cut into thirds Toothpicks Salt and pepper 1. Heat the oven to 400°F. Take a date and place the pecan inside. Then wrap a slice of bacon around the date. Hold together with a toothpick. 2. Place on a shallow baking sheet. Bake for five minutes until bacon is crisp. Then flip and bake for 5 more minutes. Add salt and pepper to taste and serve warm.
Sweet Potato Casserole Bites
This twist on the holiday classic is perfect if you have a lot of younger guests. Ingredients: 20 pecan halves 2 medium sweet potatoes peeled and cut into ¼ thick slices 20 large marshmallows Olive oil Instructions: 1. Heat oven to 400°F. Lightly drizzle the sweet potato slices with olive oil. Place on a shallow baking sheet. Bake for 10 minutes. Then flip and bake for ten more minutes. Take out of the oven. 2. Turn on the broiler to high. Top each with potato with a large marshmallow and place under the broiler for 30-60 seconds until marshmallows are toasted. Then remove. 3. Top with pecans right away and serve warm. Don't worry if you don't have time to make any of these great appetizers. Pecans in the shell make an easy tasty appetizer, if they come fresh from the farm. The pecans in the shell from Natchitoches Pecans are the freshest, most buttery pecans you'll find. They are great in recipes like these or simply on their own in a beautiful serving bowl with your favorite holiday nutcracker. Make sure to stock up on the freshest pecans for your holiday meals.