Posted by Julie on 6th Mar 2020
Fancy nuts gifts are sure to make an impression, and if you're looking to offer up an authentic taste of Louisiana proper, there's no better way to go! When you're looking for fancy nuts gifts, you'll want something that will cater to all tastes, and give your recipient or recipients a way to experience delicious nuts in a few different ways. We have just the fancy nuts gifts you're looking for, no matter the occasion you're looking to celebrate.
There are numerous occasions that are perfect for fancy nuts gifts, and we think that every occasion is the perfect occasion for fresh Louisiana pecans! However, if you're looking for a specific reason to treat your friends, colleagues, family, or other loved ones to fancy nuts gifts, the top 4 occasions we want to highlight are: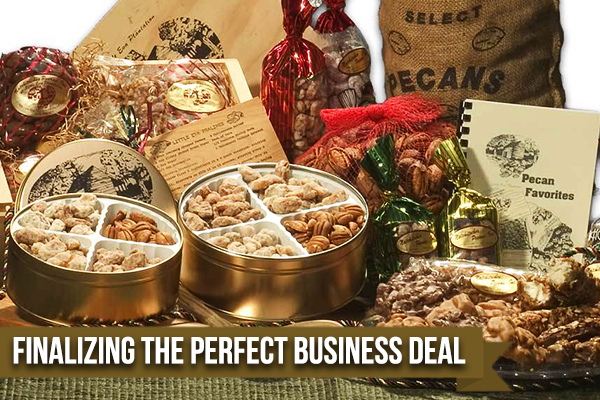 1. Finalizing the perfect business deal – If you've cemented a partnership, onboarded a new client, or welcomed a new team member to your team, why not celebrate the occasion with fancy nuts gifts? You'll certainly impress your recipient, and you'll give them a little piece of Louisiana to make them feel right at home.
2. Valentine's Day – Valentine's Day celebrates love, and what's not to love about fancy nuts gifts? If you're looking for a new way to treat your sweetie to some sweetness from you, fancy nuts gifts like Pecan Candies Gift Tin are sure to be something a little different they're going to love this year.
3. Easter dinner – Celebrating Easter dinner is something we do with our loved ones each and every year. Most times, we bring along with us some kind of dish or sweet to share, and this year can be the year you really knock their socks off. Fancy nuts gifts look beautiful resting on the table, and they taste great either before or after the big meal.
4. Anniversaries – Every year is special, which is why you don't want to give the same old thing or celebrate the same old way when you should be honoring a fresh year ahead. This anniversary, enhance your celebratory dinner with some fancy nuts gifts that can be enjoyed while you enjoy remembering another wonderful year.
Fancy nuts gifts always have a place at any occasion, and ours truly embody the authentic taste of Louisiana!