Posted by Julie on 25th Aug 2021
Pecannuts are already considered a delightful delicacy when eaten by themselves. A fresh bunch of pecans carries a rich, buttery, and sweet taste. In addition, they also have a scrumptious texture. These amazing qualities make these nuts an amazing addition to a number of dishes and can be enjoyed in various fun and healthy ways.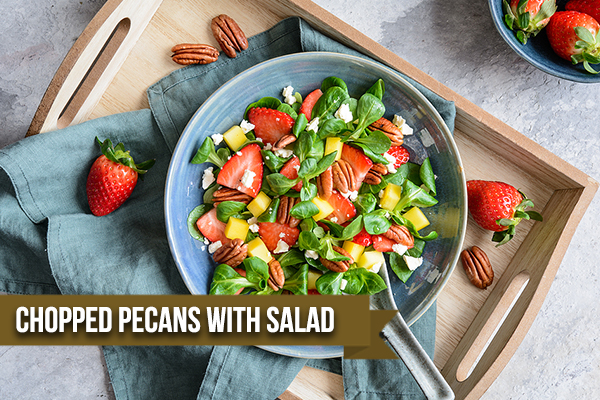 1.Pecan Nuts With Yogurt – Yogurt is one of the flexible foods you can find in your groceries. Commonly, sliced fruits are added to a cup of plain yogurt to make it more interesting. But fruits are not the only ones that go well with yogurt! Adding in sliced or crushed pecan nuts will add a new twist to its plain texture and taste.
2.Chopped Pecans With Salad – Pecan nuts are also known to contain antioxidants so there is no need to worry about tossing in a bunch of these nuts in your salad mix. Pecans are also going to add more flavor to your salad. If you are not a fan of greens, mixing in pecans can make your salad more enjoyable to eat.
3.Crushed Pecans As Ice Cream Toppings – Take a break from chocolate chips and sprinkles, and turn to a healthier alternative for everybody's favorite dessert! The buttery taste of pecans will complement the sugary sweetness of ice creams, making the flavor more balanced.
4.Healthy Trail Mix – Trail mixes are handy and healthy snacks that you can carry anywhere. Those you can find in stores usually contain dried berries, raisins, cashews, peanuts, and even sunflower seeds. But if you want a more complete trail mix with more variety, then pecan nuts will fit right in your trail mix.
5.Muffins With Pecans – A little crunch here and there will do wonders for your muffins. You can either put crushed pecans as toppings or you can mix them in the batter to act as crunchy fillings. The best thing about this idea is that you can also add pecans to your other baked goodies like brownies and pies!