Posted by wernuts2 on 23rd Mar 2018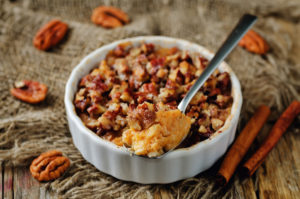 We love slow cooker recipes! During our busy planting and harvestingseasons, any recipe that we can dump and go is a lifesaver.
If you love the ease of crockpot recipes like we do, we have some great recipes for you to try using our delicious Louisiana pecans.
No time to hand roast pecans? Don't worry, you can make them right in your slow cooker. A few simple ingredients and you'll have warm, fresh cinnamon roasted pecans. The best part is your whole house will smell incredible when you make them.
Are you looking for a hearty breakfast to start your day, but your busy morning routine gets in the way of cooking? Overnight oats are the perfect solution. Simply put steel-cut oats, peaches, Louisiana pecans, and milk in your crockpot. In the morning you'll enjoy a healthy, delicious Southern spin on a classic.
What's more Southern than sweet potatoes with candied pecans? Don't wait until Thanksgiving to enjoy this classic soul food dish. With this slow cooker recipe, you can make this tasty anytime you want. Start them over your lunch hour or when you first get home and enjoy them at dinner time.
Another Thanksgiving favorite that we think should be served year round is dressing. This dressing recipe uses cranberries, Louisiana pecans, carrots, and celery. It's a perfect recipe to make with an old loaf of bread that's about to go stale. Save time, money, and avoid your food going to waste!
Another way to use your leftover bread is to make decadent bread pudding. This tasty treat is great for dessert or just anytime your sweet tooth hits. Gooey, sweet, and perfect for the chocolate addict, with this slow cooker bread pudding you'll never want to skip dessert. For more recipes using our premium quality Louisiana pecans, make sure to subscribe to our blog. We are passionate about pecans and are always looking for new ways to cook with them.