Posted by wernuts2 on 15th Nov 2017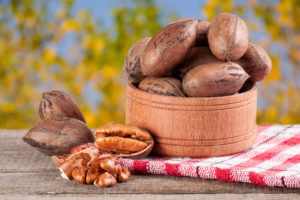 Everyone knows that there are snacks that are not-so-good for you, but are great for your taste buds like chips-and-dip or movie-theater popcorn with extra butter and salt. Of course, these don't do much for your waistline or your overall health. Then there are the snacks that we're told are better for our waistline and blood pressure, such as carrots and celery or plain air-popped popcorn. Not bad if you're desperately seeking snacking, but not the most satisfying when you really have a deep-down desire.


Satisfying Snacks
Satisfying snacks are those that hit your wants (sweet, crunchy, creamy, or savory) in a way that meets your needs (low in fat and calories, high in fiber or protein). With a few things to keep in your pantry or fridge, you'll snack in happiness whenever the mood hits.
• Savory: Veggies are great, but step ahead of the carrot sticks and keep cucumber slices, red pepper rings, and cherry tomatoes on hand for dipping in low-fat cottage cheese or hummus.
• Sweet: Fruits can be kicked up a notch by dipping apples in peanut or almond butter, pairing green grapes with a slice of deli turkey, or indulging in the sweetness of dried berries and apricots.
• Crunchy: Popcorn is healthy, but bland, when its air popped. Keep the hot air popper and add shavings of dark chocolate to the finished product for a crunchy-sweet treat. Try baked sweet potato chips for a punch of potassium.
• Creamy: Cheese is an excellent snack. Try small cubes of cheddar, a light Swiss spread, or a schmear of part-skim ricotta on Melba toast.
• All of the Above: Nuts are a very popular snack, and with good reason. They are not only satisfying when you need the crunch factor, they can be sweetened up or salted out. They can also be made into a creamy butter. They are full of fiber, which is great for the digestion and keeps you fuller for longer, and they are full of heart-healthy goodness. And it's one of the best reasons to buy pecans, such as out Fancy Pecan Halves.
Of all the nuts that you can think of to snack on, pecans are top notch. Full of healthy unsaturated fat, pecans can help lower the "bad" cholesterol. Though most people think of fruits like blueberries as the best antioxidants, pecans are the most antioxidant filled tree nut and are in the top 15 of foods with the highest antioxidant levels. If that isn't enough to convince you to buy pecans, keep in mind that they are filled with fiber and over 19 essential vitamins and minerals.
Finding a snack that has a balance of what's good and what's good for you can be tricky, but if you take a little bit of time to learn about satisfying snacking, you'll be better off next time the munchies hit.