Posted by wernuts2 on 30th Sep 2017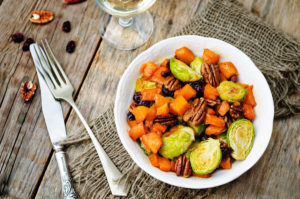 It's no secret that eating smart is one of the best ways to ensure that you live a long, healthy life.
But what many may not realize is that eating pecans is a perfect way to give your body a big boost of nutrition and to still enjoy a deliciously nutty taste.
Whether it's using them as a snack to munch on, topping a salad with them, or using them as an ingredient in the main course, pecans are well worth adding to your kitchen.
The number of health benefits that pecans can provide to you are surprisingly diverse, too. Just take a look at some of the nutritional benefits offered by these delicious nuts.
Studies have found that pecans have no trans-fats or cholesterol, and in fact it's been shown that pecans can actually help lower bad cholesterol levels in the blood. As such, they're a heart-healthy food that can help you live longer and healthier
The levels of vitamins in pecans are unmatched by many other snack foods, too. In fact, they contain more than 19 vitamins and minerals such as vitamin A, folic acid, magnesium, and more. They can help balance out your nutritional intake and are a better choice than those over the counter supplements so many people spend money on.
Fiber is a key part of good digestion, helping bind waste and move it out of the body properly. And since pecans are packed with fiber, they're a great way to improve your digestion and feel better daily.
Finally, they also contain high levels of antioxidants, and are actually the top nut when it comes to antioxidant levels. This can help reduce the risk of numerous types of diseases including some cancers and Parkinson's disease.
It's great that pecans are so delicious, but when you add in the fact that they provide a huge boost to overall health and well-being it becomes clear that they're one of the best nuts you can choose to eat.