Posted by wernuts2 on 17th Nov 2017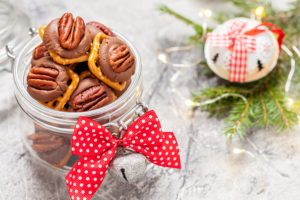 There is nothing better than to give during the holiday season. Finding just the right gifts for the people in your life can be a satisfying way to show them how much they mean to you. It can be very difficult, however, to know exactly what to choose when you really boil it down. A good idea can quickly become not-so-good:
• Though a gift certificate to a nice restaurant is a kind gesture, diets can be specialized and sometimes people just want to stay home and relax.
• Clothing is tricky; it's difficult to know what sizes fit, what colors complement, and what styles the recipient is wearing now.
• Housewares were once a popular choice, but that deep-fryer might not be good for the friend who has gone on a sudden fat-free diet, and candles seem so impersonal.
• A general gift card to the local mall can be kind, but shopping has gotten crazier than ever between the crowded malls and the crowded roadways.
• Blu-ray movies are a thoughtful consideration, but it's hard to know if grandpa would really like the new Superman series, or if 50 Shades of Grey is right for your teenage sis.
There is an easy solution to your gift giving needs. It's easy for you because you can shop from home without delving into the crowds, and it's easy for them because they are guaranteed to enjoy it. Let the way to a loved one's heart this holiday be filled with pecan gifts.
Tis Better To Give Pecan Gifts
Pecans are a delicious solution to the gift giving dilemma. A bag of in-shell pecans packed in an authentic burlap sack is a charming way to please anyone who has a snack side. You can even get them cracked to make shelling and snacking easier. Sweet-toothed snackers will enjoy pecan gifts in pretty foil bags that come covered in chocolate, praline, cinnamon, or honey. Fancier versions include the flavor of rum or Grand Marnier.
Beyond the nut itself, any foodie on your list will enjoy pecan-themed cook books full of recipes for meal planning or great gatherings, as well as tips for entertaining and beautiful tablescapes. So sit back and relax this season: you got this! Pecan gifts for one and all, and to all a happy holiday. for one and all, and to all a happy holiday.