Posted by Julie on 26th Jun 2020
We all have that one person on our list every year that is hard to shop for, whether it is for a birthday, anniversary, or Christmas. Perhaps you have already exhausted your gift options when it comes to these people, and you are looking for more unique ways to show you care and that you are thinking of them. What better way to show this care and attention than by sending delicious pecan gift baskets?
Essentials in a Pecan Gift Basket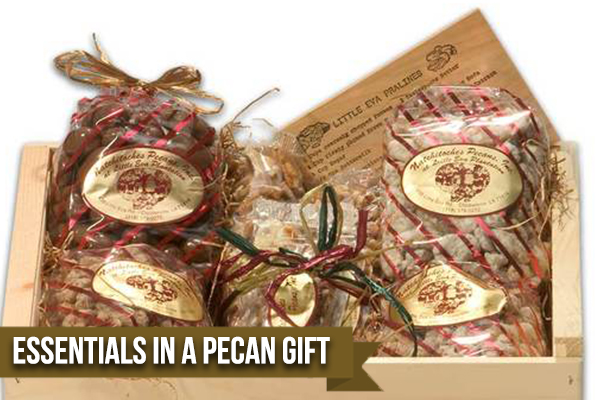 If you want to make the basket yourself to customize it for the person you are gifting it to, then there are a few essentials you will definitely want to make sure to include.
Chocolate and Caramel
Who doesn't love candy? No matter what form chocolate comes in, it is almost surely going to be a winner. Your pecan gift basket should have a good balance of salt from the tasty pecans and sweetness from some chocolate and caramel treats.
Fruit
Fruit also goes well with nuts, especially pecans. Including a handful of someone's favorite berries and other fruits is a good way to introduce even more flavor and textures to your gift basket.
Wine
To wash down all the sweet and salty goodness, why not include a bottle of wine? Wine pairs well with chocolate, fruit, and nuts and would make a great addition to any pecan gift basket you create. Riesling, for example, pairs very well with pecans and will match the flavors of your basket.
Premade Baskets
If you don't have the time or ideas to make the gift basket yourself, there is nothing wrong with purchasing one that is already premade and loaded with delicious goodies that are ready to gift.
Ms. Rita's Praline/Baker's Special Pecan Gift comes with a one-pound bag of fancy pecan halves, one bag of pecan pieces, one pack of praline candy mix, and the Pecan's Favorite Cookbook. It is a good gift for the amateur cook or seasoned chef on your list.
You can also opt for the Clementine for the Holidays Pecan Gift Box. This special box of treats comes with two gourmet pecan log rolls, two pecan fiddlesticks, 12-ounce bags of cinnamon-spiced pecans, natural pecan halves, chocolate pecans, and old fashion cane pecans. It also comes with a wooden recipe card. So, if you have someone with a sweet tooth, this is sure to be a hit.