Posted by Julie on 8th May 2020
For many people, there is just something about the sweet, nutty, delicious flavor of pecans. They cannot seem to get enough of it, and who can blame them really? Meanwhile, some folks consume the nuts for the health benefits. According to Health Line , pecans are low-carb nuts, which may reduce certain heart disease factors. The research states that they might help regulate one's blood sugar as well.
Pecans are great as snacks on their own. They are perfect for baking and cooking too. For instance, an at-home chef could use them in making a cake or a pie. Also, they can be turned into pecan meal for coating pork chops, chicken, and other meats. The ingredient gives food an exciting flavor and texture that everyone at the dinner table will enjoy . Regardless of how pecan lovers prefer to consume their pecans, they might be having trouble finding them right now due to the COVID-19 crisis.
Shelled Pecans For Sale Online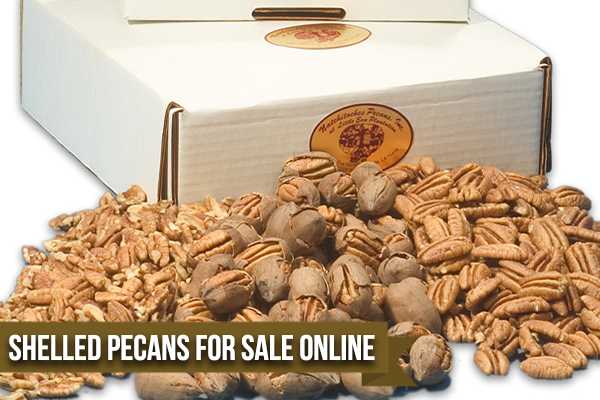 If you're craving pecans but your local grocery store doesn't have them at the moment, don't fret. Instead, contact us for all of your shelled pecan needs. We have several options available, and our top sellers include:
3 lbs. Fancy Shelled Pecan Halves - $52.95
5 lbs. Fancy Shelled Pecan Halves - $76.95
There are also choices for those who don't mind dealing with shells. You can purchase a 4 lb. Bag O' Nuts, which has in-shell pecans for $31.95. We also offer a 4 lb. Bag O' Nuts with cracked pecans for only $34.95. Look no further than our store for in-shell and shelled pecans for sale.
Get The Goodies Delivered Right To Your Door
Americans are supposed to be practicing social distancing at the moment. Federal guidelines were passed along to the public to prevent the spread of COVID-19. People are required to stay at home, except when it comes to tasks such as seeking medical care and buying groceries. Some folks are even allowed to keep working, providing that their jobs are considered essential. However, because of the dangers of COVID-19, a lot of people are afraid to step out of their houses. That is where shelled pecans for sale online come in.
Instead of having to risk going outside, where you could get stuck in a store that isn't following social distancing measures, make the most of the Internet and place an order with us. Doing so may help you stay safe and healthy as your package will be left right on your doorstep. You don't even have to meet the delivery driver face-to-face if you do not wish to.