Posted by wernuts2 on 25th Jan 2019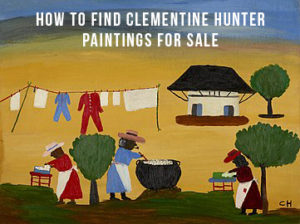 Clementine Hunter is one of Louisiana's most famous and most celebrated folk artists. Born in 1886, Clementine Hunter began painting only in her 50's, and continued to paint until her death in 1988. Depicted in her paintings are portraits of everyday life on the Cane River as she lived it, focusing on life working on various area plantations and the people of the region. Clementine Hunter's paintings are featured at the New Orleans Museum of Art and around the country, as she's renowned as one of the most important folk artists during the 20th century in the United States.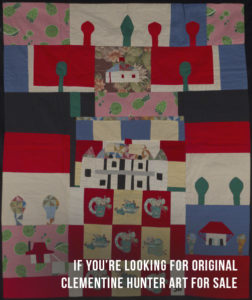 If you're looking for original Clementine Hunter art for sale, be prepared to pay a hefty price. While her early paintings sold for as little as a quarter during the 1940's, her reputation has caused these prices to climb as time went on. The best place to find Clementine Hunter original paintings for sale today would be at auction, and one can be prepared to shell out anywhere from $1,000 to upwards of $10,000 depending on the painting and its condition if they'd like to take one home for themselves.
While the price of an original piece of Clementine Hunter art isn't exactly affordable for many, that doesn't mean you won't get to enjoy her incredible Louisiana folk art in your own space.
Our Clementine Hunter inspired collection brings Clementine Hunter paintings into your space with all the beauty but for a much more affordable price. Baptism on Cane River is one of Clementine Hunter's most famous paintings, and at auction can sell for as much as $6,000. Our Baptism on Cane River Linen Tea Towel brings the same vibrant color and piece of Louisiana history into your kitchen, printed onto pure soft linen to show the brush strokes and vibrant color used in Hunter's original.