Posted by Julie on 16th Oct 2020
In the South, fall brings warm memories of auntie's famous pecan pie. This indulgent treat, often served with homemade ice cream, always marked the beginning of the season.
Pecans are the ultimate autumn flavor. Rich and buttery, they make any fall dish delightful. To kick off the fall pecan season, we have put together some of our favorite fall pecan recipes for you to try. Grab some pecans shelled in bag and let's get cooking.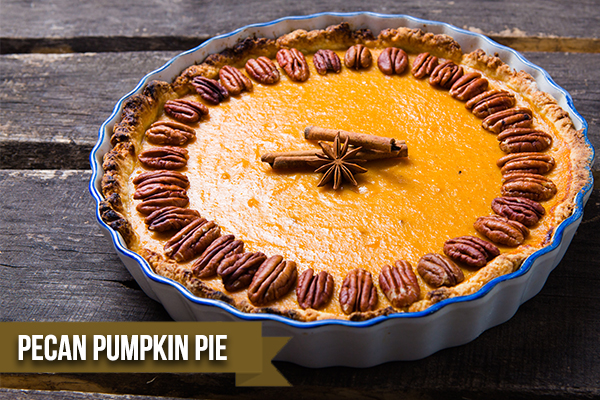 Enjoy the two most famous fall pies together in one. Pecans and pumpkin pair beautifully together. The earthy sweetness of pumpkin complements the buttery crunch of pecans. Spiced with cinnamon and nutmeg, this pie will be an instant hit on your fall dinner table. If you are not a fan of pumpkin pie, you can pair pecans with apples in an Apple Pecan Pie instead.
2. Cinnamon-Sugar Roasted Pecans
Warm roasted pecans are one of fall's best treats. This portable snack is great for on the go or to serve at dinner parties. The best part is that the roasting process will fill your entire home with the rich scents of autumn.
Breakfast is the most important meal of the day, so why not enjoy the healthy fats and dense nutrition of pecans in the morning? These muffins will not only let you start your day with a tasty treat but will give you energy to get through the chilly fall days. The best part is these delicious muffins are perfect for those of us who don't always have time to sit down to a healthy breakfast. We can just grab one and head out the door!
For adults, these bourbon chocolate truffles are absolutely divine. Bittersweet chocolate truffles infused with your favorite Southern bourbon are rolled in pecans. They are the perfect treat to indulge in after a long day. What's more, you don't have to be a skilled chocolatier to make these gourmet treats.
Of course, we haven't forgotten about the kids. These maple pecan bars are a kid-friendly favorite. They are super easy to make with your little ones, and though sticky-sweet, they are not that messy to eat. Maple glazed pecans top off a soft chewy cookie. These bars are also gluten-free for people with dietary restrictions.
These fall recipes are perfect for kicking off the season. To get started, order pecans shelled in bag from Natchitoches Pecans. We offer the highest-quality pecans that will make all of your fall recipes truly unforgettable.