Posted by wernuts2 on 14th Jun 2019
You might have seen her stunning and vibrant artwork that depicts scenes such as work in the field and baptism in the river, but how much do you know about the artist who created it?
Here are 6 quick facts about the life of self-taught American artist, Clementine Hunter.
1. Hunter lived and worked most of her life on a cotton plantation. Her early years were spent picking cotton and harvesting pecans, but in the 1920s, she became a domestic worker, doing laundry and cooking. 2. Hunter's family moved to Melrose Plantation when she was 15. It was run by a woman who cultivated the arts, and she welcomed artists, writers, and actors from all over the world to stay there. Famous guests include writer William Faulkner, actress Margaret Sullivan, and photographer Richard Avedon. 3. Hunter didn't begin painting until 1939, when she was in her early 50s. After one visiting artist left behind some brushes and paints, she used them to create her first piece of artwork on a plantation window shade. After that, she began painting on any surface she could find. 4. Hunter's abstract work depicted colorful scenes of plantation life that she took from her memories and her dreams. She often painted people in action, such as doing laundry or heading to church on Sunday. It's rumored that she painted between 5,000 and 10,000 painting in her lifetime. 5. Hunter was noticed by the plantation curator, François Mignon, who brought her work to a local drugstore where they sold for a dollar. He further encouraged her to paint and show her work. She finally gained public attention in the 1970s when her art was displayed in prominent Museums in New York and Los Angeles. 6. Hunter did not like to travel outside of Louisiana, even turning down an invitation from President Carter to visit the White House. Despite her great success, she stayed in Louisiana and continued to paint every day until the day she died at age 101; January 1, 1988. Hunter's work is on display at the National Museum of African American History and Culture in Washington D.C. "Clementine Hunter: Life on Melrose Plantation" will be available for view until December 19, 2019.


The Clementine Hunter Collection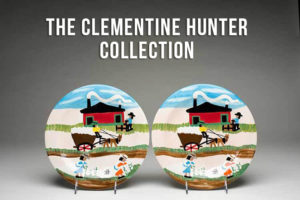 We're proud to offer several pieces inspired by this great American artist. Our Clementine Hunter collection features everything from dinnerware to tea towels, all adorned with the artwork that showcases her vision of her life in the south. The pieces are classic, and make a fine addition to any kitchen, no matter what state it's located in.