Posted by Julie on 17th Apr 2020
Pecans are a versatile nut that everyone loves. While pecans are renowned as the special ingredient to the Thanksgiving-favorite pecan pie, it is also great when added to bread, covered in praline, and even on its own. Thankfully, pecan companies have made pecans available all year round so you can make pecan pie anytime. Extend the shelf life of fresh pecans in shell for longer and bake the perfect pecan pie any season of the year.
How To Keep Pecans In The Shell Fresh Longer: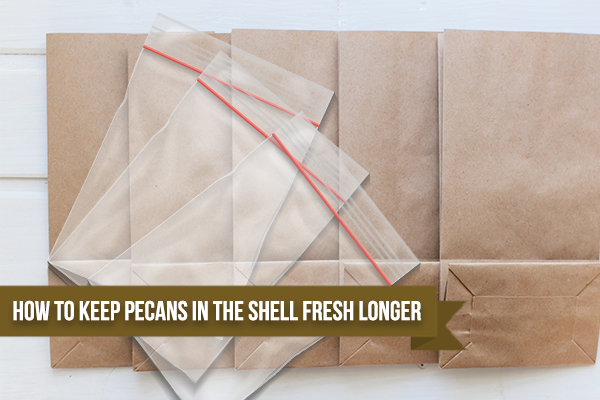 Keeping pecans fresh is vital to any recipe that involves pecans. It is important to preserve the natural flavor and aroma of the pecan. Here's how you can do it:
If you plan on storing your pecans for a long period of time, it is best to go for fresh pecans in shell. You can keep whole pecans in the shell fresh for up to 2 years when done right.
Store pecans in small batches in airtight containers. Airtight jars are the best option but zip lock bags can do the job as well. Use two zip lock bags, then wrap them in a brown paper bag. This will keep moisture and other odors from your pecans.
Store pecans in a cool dry place. There are different options on where to store your pecans. The choice depends on how long you want to extend its freshness:
üIf you want to store your pecans for up to 6 months, store your pecans in the refrigerator.
üIf you want to keep pecans fresh for up to 2 years, store them in the freezer. If you're freezing your pecans, it is a must to divide them into small batches. Thaw only what you need because once thawed, the shelf life of fresh pecans in shell only lasts up to 2 months.
Avoid storing your pecans next to food with strong odors. Pecans have a tendency to absorb the fragrance of the food next to them. It does not matter how airtight your container is, pecans are bound to absorb other food's smell.
Follow all these steps to keep all your pecans fresh for all your baking projects for any occasion.
Want Farm-fresh Pecans All Year Round?
Keeping pecans fresh, crisp, and aromatic is easy when you buy from Little Eva Pecans. Little Eva Pecan Co. is a family-owned pecan company that offers a variety of pecan products. High quality, farm-fresh pecans in the shell are perfect for storing and baking throughout the year.