Posted by wernuts2 on 17th Aug 2018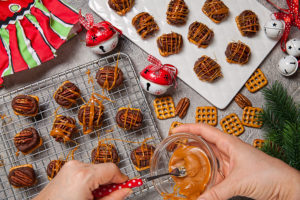 Not everyone in this world is an accomplished baker, cook, or chef. Some people find themselves lost when they set foot in the kitchen.
Taking a peek in the pantry can cause the person to get stressed out and overwhelmed just because they don't know what to do with the ingredients. Don't let these feelings become bestowed upon you.

Nobody knows how to prepare meals, snacks, or other goodies until they are taught to do so.
Mothers, fathers, grandparents, and guardians usually teach the ins and outs of cooking to kiddos at a young age. However, not every family is hands-on, and some folks are never shown the proper ways to mix and match ingredients.

Luckily, cookbooks are the ideal solution to hone your skills, learn the benefits of particular components, and teach you recipes that will amaze friends or family members. While Nacitoches Pecans is known for providing consumers with fresh, tasty fancy pecan halves and pecan candies, they also have various specialty items available for purchase.

So, whether you are an aspiring baker, or just searching for the perfect gift for someone, think about placing an order for one or more of these things today.
Specialty Items Worthy Of Consideration
1. June Jackson's In Praise Of Pecans Cookbook This delightful and engaging volume contains the health benefits, culture, and history of the incredible nut. The writing is easy to follow along with, and the book features beautifully illustrated pages with over 100 recipes. It is a pleasant read for a lazy afternoon or any time. So, don't delay any longer, and instead, get your copy now to start cooking pecans like a pro in no time.

2. Health Benefits of Pecans This book is not a cookbook, but rather, it is an informational guide that explores the science behind how a person eating pecans can benefit. Three university scientists produced the work, Dr. James L. Hargrove, Dr. Diane K. Hartle, and Dr. Phillip Greenspan. This piece talks about pecans being full of antioxidants, vitamins, minerals, and healthy fats, fiber, and proteins. Don't worry about the writing being complex or confusing. It is broken down, rolls of the tongue well, and is simple to understand.