Posted by wernuts2 on 13th Oct 2017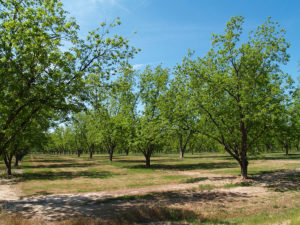 Our family owned and operated orchard has provided consumers with only the highest quality Louisiana pecans since 1987. We split the duties, and each niece, nephew, son, or daughter plays an integral role in keeping the operation running smoothly. There are a variety of different factors that can hinder the crops, but our team goes above and beyond to try and eliminate all of them. In taking these actions, our customers receive excellent tasting pecans to eat on their own or use in various dishes.
Pecan Tree Diseases
The most common type of tree-related illness in our line of work is Pecan Scab. This fungal disease travels through the air and wreaks havoc. It begins by leaving round discolored spots on the leaves that eventually turn black. If left unchecked, the virus spreads to the pecans, which will cause them to drop from the tree early and prevent growth from occurring. Fungicides remedy the problem, but extra care is taken to ensure that the pecans are safe for consumption. Other conditions that can decimate current and future crops are cotton root rot and bunch disease.
Insects To Look For In A Pecan Orchard
Not all bugs are creepy and crawly, nor do they all pose a threat to pecans. However, some insects hurt either the trees or nuts themselves, and they must be dealt with in a safe manner that is not harmful to consumers or the orchard. Typical insects associated with pecans include...
Hickory shuckworms
Black pecan aphids
Sawflies
Stinkbugs, caterpillars, and various others
Lack Of Nutrients In The Soil
Pecan trees do not tend to produce good yields when they are grown in clay or other soils that drain poorly. Irrigation systems and the fertilization process are vital components to counter these conditions, but on occasion, even more, must be done. From time to time, the orchard needs to be thinned out. Sunlight is essential to the growth of high-quality pecans, so limbs, and sometimes entire trees become cut down to allow the light to shine freely.
We Never Have Our Hands Too Full For Customers, Friends, Or Neighbors
These mentioned items are only a few of the things that keep us on our toes around the orchard, but we always have time for a visit, so if you are in the area stop on by, and if you are curious about any other part of our operations, just ask. If you are hankering for the taste of pecans but don't, or can't, come to the location, our site is easy to navigate, and you can have our nuts delivered right to your door with the few clicks of a mouse.