Posted by wernuts2 on 15th Nov 2019
Perhaps this was the year you finally landed that big client or maybe your team has put in long hours and you want to show appreciation over the holidays. However, choosing a gift can be a challenge. What's an appropriate gift to keep the relationship going? What is the acceptable amount to spend? Should the gift go to the whole team or an individual?
To help you, here is an easy guide to making sure you master corporate etiquette.
The Don'ts Of Holiday Gift Giving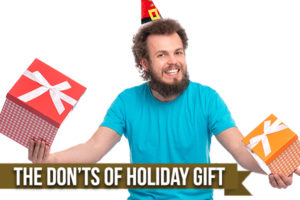 Here are the biggest faux-pas to avoid when giving a corporate gift this holiday season:
● Don't give humorous gifts: Funny gifts are great for family members, but they can sometimes become offensive in a workplace setting. The last thing you want to do is insult someone you are trying to show gratitude.
● Don't exclude team members: A good rule of thumb whether giving a gift internally or outside of the company is to make sure it is something everyone can enjoy. You don't want to accidentally leave anyone out. The best option is something shareable.
● Don't gift promotional items: Promotional gifts emblazoned with your logo are not very personal. They're really designed to sell and don't communicate a true sense of gratitude.
The Dos Of Holiday Gift Giving
Now that you know what is inappropriate, here are some things you should do instead:
● Do check with HR: Many companies have rules about gifts. Make sure that you are following your company's requirements for budget and presentation.
● Do focus on presentation: A beautiful presentation goes a long way with holiday gifts. It shows an attention to detail and care. A great presentation can make a lasting impression on a client.
● Do be unique: Most people in business get a range of gifts every holiday season. Make sure you pick something that will stand out from the crowd.
Where To Look For Fresh Pecans For Sale
Following these rules will make sure that your corporate gift giving achieves the goals you want. If you are looking for the perfect corporate holiday gift, consider the fresh pecans for sale at Natchitoches Pecans. We offer a wide range of unique gifts, beautifully presented. Our fresh pecans for sale are shareable, delicious, and will be sure to be remembered.