Posted by Julie on 8th Jan 2021
Many folks won't be able to attend Mardi Gras in New Orleans this year, but that doesn't mean we have to miss out on the fun. One of our favorite things about Mardi Gras is all the great foods featuring pecans. We've compiled some of our favorites so you and your family can still celebrate from home. Make sure to buy fresh pecans online from Natchitoches to ensure these Mardi Gras pecan dishes make for a memorable holiday.
1. King Cake
King Cake is the most traditional Mardi Gras dish. Originally started as the galette des rois in France eaten in honor of Epiphany, Louisiana added its unique twist and it's now a world-famous cake used to celebrate Carnival. This multi-colored cake features a small plastic baby. Whoever gets the baby in the slice has to host Mardi Gras next year. King Cake is a delicious cinnamon cake with a pecan filling. There's also the Zulu-style King Cake that incorporates cream cheese.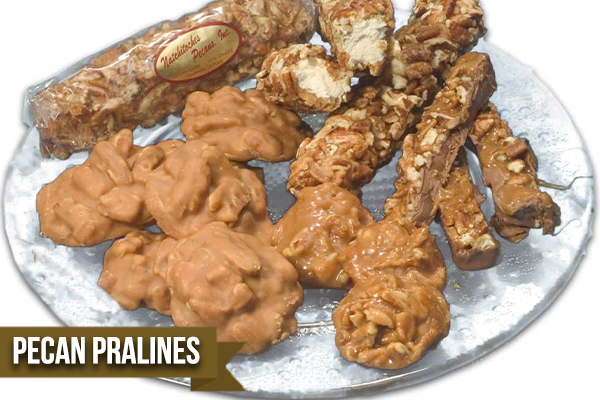 Pecan pralines are a fudge-like candy that highlights the buttery-sweet taste of pecans. These chewy candies are often a favorite snack on Fat Tuesday. They are easy to make and taste fantastic. However, if you're not in the mood to cook but still want pralines, we offer delicious prepared praline pecans made the traditional way and Zuzu's Praline Mix that makes homemade pralines a breeze.
Nothing says "New Orleans treat" like beignets. Beignets are perfect, fluffy doughnut-like pastries that are ideal for breakfast. This recipe is a take on the classic beignet but has a twist of caramel nutty goodness of praline pecans. If you don't have a major sweet tooth, you can also just make a classic pecan beignet without the praline. Either way, add a cup of coffee or your favorite breakfast beverage and your morning taste buds will sing.
It wouldn't be Mardi Gras for without a delicious dessert cocktail. This decadent martini takes the best flavors of pecan pie and offers a celebratory drink. We love the rim of cinnamon spices caramel pecans, that would be a great garnish for some of our other favorite cocktails.
These delicious pecan recipes will help you celebrate Mardi Gras from anywhere this year. Remember to stock up and buy fresh pecans online from Natchitoches so you are ready for the holiday. We offer the freshest Louisiana pecans delivered right to your door.