Posted by wernuts2 on 25th Aug 2017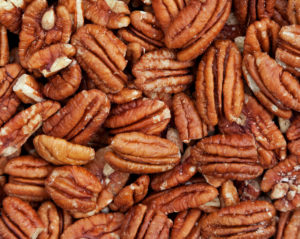 Almost everyone knows that pecans are ingredients in a variety of different baked goods. Pies, brownies, cookies, and more benefit from the sweet taste and crunchy textures. They are also a suitable option for adding aesthetic appeal to a variety of dishes. Typical applications involve the pecans becoming mixed into the batter or the surface of the items becoming topped with them after they have cooked. It is also not uncommon for consumers to grab a hand full pecans and just eat them plain. However, consider adding these healthy ingredients into these other dishes that you might not have thought about for a unique taste.
Things To Do With Pecans That Don't Involve Baking
Pecans offer multiple health benefits to consumers. Add them to your salad to give its ordinarily bland taste more flavor. The crunchiness will complement the other crisp textures associated with the fresh fruits or vegetables in the bowl. For even more additional flavoring, drizzle a light vinaigrette dressing over the combination, eat, and enjoy. In turn, protein, vitamin E, minerals and more will become passed along to your body. Incorporating pecans into different kinds of meals may promote a healthy immune system, which can help you remain free of sicknesses. You don't have to be a gourmet chef to enjoy the sweet, succulent taste that pecans provide. Crush them up into a fine powder, and apply them to your toast with butter or peanut butter for a nutritious breakfast or snack. The crushed pecans also make an ideal topping for ice cream, yogurt, and more. With minimal effort for preparation on your part, the food and flavor combination possibilities are endless. If you don't mind getting your hands a little dirty, dip some bananas in some melted chocolate, roll it in the pecans, freeze, and surprise your kids with a delicious after dinner dessert. Before hosting your next backyard barbecue, coat the meats and vegetables in pecans, and then cook them on the open flame for a deep, smoky taste that your guests will appreciate. The same can be said for when you are cooking these items inside in the oven, but since the list is dedicated to not baking, we will avoid elaborating any further on that topic. The coating will help you feed even the pickiest eaters at your party, and it may even leave guests asking you for your family's recipe.