Posted by Julie on 14th Jun 2021
Fresh Louisiana pecans are great snacks on their own but you can also enjoy using them for different recipes. If you ever find yourself in the face of surprise family visits, or if you simply want a quick yet delightful snack, these easy-to-do pecan nut recipes are your go-to.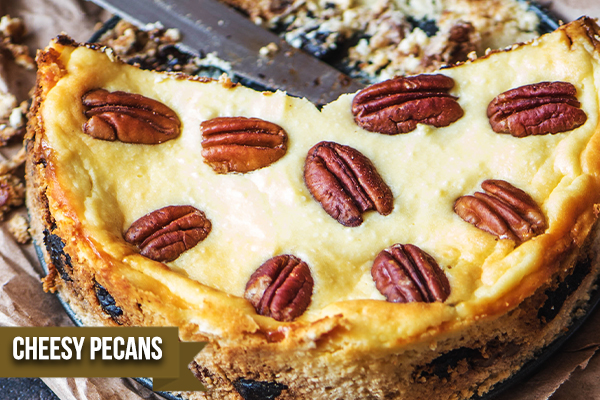 1.Cheesy Pecans – This Cheesy Pecan recipe is quite simple but it is one of the best and quickest snacks you can prepare. You will only need a bunch of finely chopped pecans and shredded parmesan cheese for this one.
To prepare your Cheesy pecans, just stir your chopped pecans and parmesan cheese together before throwing them inside your oven. You can bake them for about 7 to 10 minutes, or until they turn into a delightful golden brown color. Let them cool for a bit after and then you are good to go!
2.Chocolate Pecan Clusters – If you are more of a chocolate fan than a cheese fan, then the Chocolate Pecan Clusters are for you. There are only 3 key ingredients for this recipe: chopped pecans, melted butter, and melted chocolates. Simply mix these three before putting them inside the microwave for about 2 to 3 minutes. Let them cool afterwards until they harden and voila! Enjoy your Chocolate Pecan Clusters.
3.Fresh Pecan Quesadilla – Here is another three-ingredient recipe. For this one, you will need chopped pecans, tortilla wraps, and shredded cheese. Just put the chopped pecans and cheese inside the tortilla wrap. Make sure they are secured before throwing the tortilla wrap in a skillet and pan. Make sure to cook each side evenly for about 2 minutes. Once done, let them cool for a few minutes and then you can enjoy their hearty snack.
Pecan nuts are one of the most flexible foods you can use for different recipes, even quick ones like this! The real secret to achieving a rich and flavorful snack is to get fresh pecans for sale.