Posted by wernuts2 on 19th Aug 2016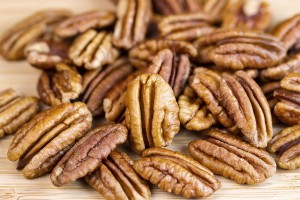 The holidays are right around the corner, and with them comes the necessity of gifts galore for all your friends, family, and loved ones. While gift shopping can be one of the most difficult and stress-inducing times of the year, it doesn't have to be. Rather than stressing over the perfect gift from the mall or other department stores, why not gift them with one of our
Pecan Gifts and Tins
instead?
If you're not totally convinced that this is the perfect gift to give this year, here are a few reasons why pecans are the perfect gift for this holiday season.
Healthy
Pecans are known as "heart healthy nuts," and contain monounsaturated fats, fiber, and other nutrients that aid in heart health, healthy weight loss, healthy metabolism, and are a great source of antioxidants that help to promote healthy digestion. What better gift to give this year than the gift of a healthy, hearty snack? And the best part? It's incredibly versatile, to boot.
A Most Versatile Nut
As well as a tasty treat all on their own, pecans also have a number of culinary uses, due to their creamy consistency and sweet, buttery flavor. They make wonderful additions to sweet desserts such as pie, fudge, muffins, caramel pudding and more, and can be prepared in a number of ways. They can be roasted in the oven at 350 degrees to bring out their aroma and crunchiness (roast until they turn light brown in color); they can be chopped to sprinkle over desserts such as ice cream, cakes, yogurt, and other sweet treats, or ground to be added to bread, cakes, or cookies; they can be ground to make butter for bread or toast; or they can be process into oil to use for cooking or salad dressing.
If someone you know loves making pies around the holidays, or loves to bake in general, or if you know someone who's trying to get a handle on their health, then one of our pecan gifts are for them. Don't wait – get your friends and family the healthy and versatile gift they deserve today!