Posted by wernuts2 on 18th Jan 2019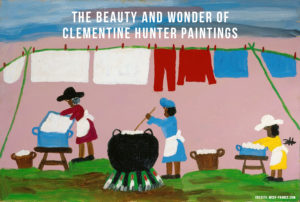 Clementine Hunter art is revered all throughout Louisiana, with the artist being the very first to be featured in a solo exhibition by the New Orleans Museum of Art. Name dropped by Oprah Winfrey as one of her very favorite artists, Clementine Hunter had an uncanny ability to capture snapshots of life on the Cane River quite unlike any other folk artist. Hunter was born in 1886, but did not begin painting until her 50's, and her works completed during the 1940's to the 1960's are considered some of her most valuable and sought after.
Much of the beauty and wonder of Clementine Hunter paintings can be found in the content she painted. Painting mainly by memory, she took everyday scenes working and living in Louisiana, and transformed them using bold color and dramatic linework to create moments we can get lost in even today. In this way, her work serves as a time capsule, transporting admirers to periods of Louisiana history and allowing us to look at them through her eyes.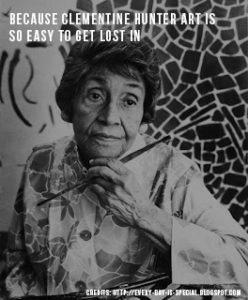 Because Clementine Hunter art is so easy to get lost in, it's also an incredibly popular choice for those in Louisiana and beyond to put on display. Original Clementine Hunter paintings can be found at auction, with prices sometimes in the tens of thousands of dollars, but you don't need an original work to appreciate what she's created. Clementine Hunter art inspired plates, tea towels, pillows, and more bring these pieces into your everyday life in an accessible and attainable way.
According to the director of the Museum of American Folk Art located in Washington DC, Clementine Hunter is the most celebrated of all Southern contemporary painters. Her simple and dramatic style paired with her ability to communicate scenes of everyday life allows her paintings to live on forever, and with keepsakes bearing these prints, they live on forever within today's everyday home.