Posted by wernuts2 on 26th Jul 2019
Clementine Hunter was a folk artist from the Cane River region of Louisiana. She lived and worked on the Melrose Plantation and is the first African-American artist to have a solo exhibition at the New Orleans Museum of Art. Her work was simplistic and showed her enthusiasm, and for this, Clementine Hunter was commonly referred to as the black Grandma Moses. She died in 1988 at the good age of 101 and is still being celebrated in an exhibition that is held in the Rhimes Family Foundation Visual Art Gallery at the Smithsonian's National Museum of African American History and Culture located in Washington, D.C.
The Life of Clementine Hunter
Hunter's family moved to the Melrose Plantation located south of Natchitoches when she was just fifteen years old. She worked picking cotton and harvesting pecans until the 20s when she then became a domestic worker. Many writers and artists spent time in the plantation, including William Faulkner, Margaret Sullavan, and Richard Avedon. Hunter first started painting when one of the artists left behind some brushes and discarded paints after visiting. She used materials she could find, including window shades. The curator took Hunter's art pieces to a local drugstore where she sold them for a dollar. Hunter was also tasked with illustrating the curators Melrose Plantation Cookbook.
Clementine Hunter Paintings
Clementine Hunter paintings included room size murals. She also painted on whatever surfaces she could find, including canvas, wood, gourds, paper, wine bottles, and more. Her artwork was colorful and depicted work in the field, church, and laundry hanging on the line. She used bright colors and simple shapes while also painting her own vision. In her work, you may even notice that the men appear to be smaller than the women. This was Hunter's way of elevating women and their work within her paintings.
Purchasing Clementine Hunter Paintings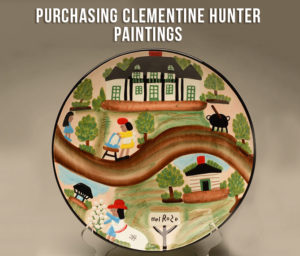 If you like Clementine Hunter paintings, you can find them in good variety on merchandise as well. The Clementine Hunter Collection features pillows, tea towels, mugs, decorative plates, and more with famous illustrations from her life. Her art is very accessible for anyone who loves and appreciates her work. She stayed true to herself and her visions and declined lavish invitations because she preferred to not travel outside of Louisiana and away from her home. She was one of the few artists that just couldn't stop creating.