Posted by wernuts2 on 8th Jun 2018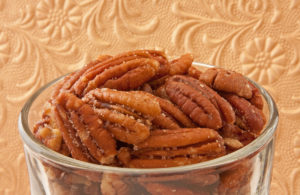 When people think of pecans, their minds probably almost immediately go to sweet desserts they remember from their childhood such as pecan pie and pralines.
But did you know that pecans can also make a delicious and savory addition to any menu lineup?
Savory roasted pecans are an extremely healthy and easy to make a snack that will provide you with the energy you will need to get you through your day. Ingredients 2 cups of pecan halves Coarse salt Tablespoon of extra virgin olive oil Steps Simply toss the pecan halves with the oil and roast them in a 375-degree oven for approximately ten minutes and sprinkle them with coarse salt while warm. After they cool, you can separate them into bags, so you can have a quick and ready to go snack option that you can take with you when you are in a hurry.
If you prefer a bit of heat and a bite to your afternoon snack, then hot and spicy pecans are just what you are looking for. Ingredients Two tablespoons of melted butter Garlic Powder Worcestershire Sauce Ground Red Pepper Salt Pecan Halves Chili Powder Steps Mix the pecan halves with all the ingredients and coat them. Spread them onto a baking sheet and put them in a 300-degree oven for about thirty minutes. Make sure to stir them every ten minutes. Depending on the amount of heat you prefer, you can use as much or as little of the spices as you wish. It all depends on your own taste and preferences.
Other Savory Pecan Options
In addition to the above snacking options, pecans and pecan halves can also be incorporated into other savory recipes including green bean dish recipes and they can even be used to create a delicious and creamy sauce that can be poured over a baked chicken dish. There are many possibilities and several different recipes that utilize pecans, so there will be no shortage of ideas and inspiration for your next dinner party or holiday gathering.