Posted by Julie on 18th May 2021
Pecan gift baskets often feature during the holidays. If you're the lucky recipient of one, you may have fired up the oven more than a few times to bake pecan pie. Beyond that, however, you might have little idea of what to do with the pecans you have left.
Not to worry! This article will give you some nifty ideas for making good use of your extra pecans. You just might be left wanting more pecan gift baskets sooner than you think.
Making Savory Pecans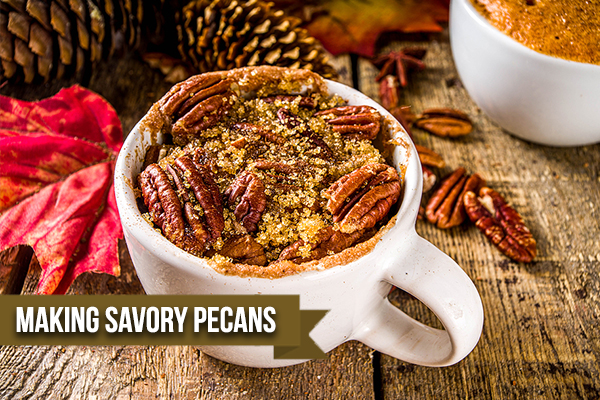 You may associate pecans with sweeter fare, but they're also ideal as a savory snack. Adding salt and a spice mix to toasted pecans punctuate the nut's natural buttery taste. You can try recipes that incorporate ingredients like garlic powder, ground mustard, cayenne pepper, and savory sauces into your spice mix.
Whipping Up Candied Pecans
If you have more of a sweet tooth but don't necessarily want to bake a whole pecan pie, you can try candying your extra pecans. Candied pecan recipes feature ingredients like maple syrup, vanilla, caramel, and cinnamon.
Using Pecans For Toppings
Add flair to your salad by chopping up some pecans and using them as toppings. The extra buttery crunch from the nuts is a great alternative to the regular salad croutons.
If you have extra chopped pecans left, save them for later. You can use them to top off your next scoop of vanilla ice cream or your breakfast waffles and pancakes.
Making Pecan Butter
If you're a fan of peanut butter, you might just love pecan butter. Toss some toasted pecans in a food processor and wait until they've melded together into silky butter. Pecan butter goes great with a slice of banana bread or just plain toast.
Eating Pecans On Their Own
Finally, you can make good use of your extra pecans just by popping them in your mouth as is. Incorporating pecans into your daily diet can be really good for your health as these nuts are packed with antioxidants, b-complex vitamins, monosaturated fats, and protein. They contain nutrients that promote metabolism, which can help you maintain a healthy weight and reduce the risk of cardiovascular disease.
So, the next time you get pecan gift baskets, have a gander at these alternative uses. That is, if you ever tire of pecan pie, which in itself is quite hard to do.