Posted by Julie on 30th Dec 2020
The holidays are upon us, and our lists of things to buy keep getting longer and longer. Sometimes, it can be hard to find the perfect present for someone who already seems to have everything.
Whether you are shopping for the holidays or another special occasion, you can be sure that pecan gift baskets are an excellent choice. They also prove to be a thoughtful and memorable present that everyone on your list will appreciate.
A Taste Of The South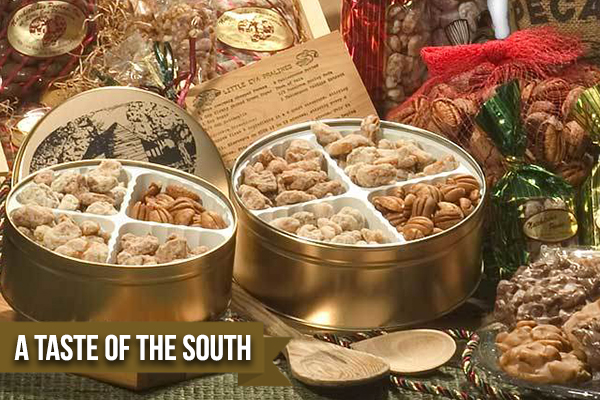 If you want to let others discover the taste of the south and to share some delicious southern treats with the people you love, then you can't go wrong with pecan gift baskets. They come with an assortment of tasty options, so there is something for everyone to enjoy.
Not only do they make great gifts for family and friends, but they are also ideal for when you are looking for a corporate gift for the people you work with. It allows you to show gratitude and put a smile on their face at the same time.
A Healthier Alternative To Candy Boxes
Pecan gift baskets are much healthier compared to the sugary treats and candy boxes that some typically go for during the holidays. Full of good fats and protein, pecans are a snack that will give you a lot of energy and bring you satisfaction.
Calm A Sweet Tooth
If you know someone who can't seem to get enough of sugar, you can opt for sweet and salty pecan gift baskets. A pecan candies gift tin candy sampler is the best way to sample the candied pecans we have to offer and find out which one is your favorite. It also comes in a beautiful tin that is just right for gifting during the holidays and other special occasions.
Each candy is made from nuts harvested from our pecan orchard and created using a traditional Southern recipe that has been perfected over many generations. If you know someone with a sweet tooth and want to introduce them to something new, then go right ahead and order a candied pecan gift tin for them.
Before you reach for the usual go-tos like a traditional popcorn tin or a gourmet coffee box, consider surprising your loved ones with something different this year. Trust us when we say that no one can turn down a pecan gift basket.