Posted by Julie on 9th Oct 2020
With the fall season here, it is time to enjoy the best of the autumn harvest. All across America that means everyone can enjoy the buttery, rich flavor of pecans. Perfect for desserts, cooking, and snacking, these healthy nuts are a beloved favorite.
However, not all pecans are the same. So when deciding where to buy pecans, we suggest always buying straight from a pecan orchard. Here are all of the reasons why:
1. You Will Get The Freshest Pecans Available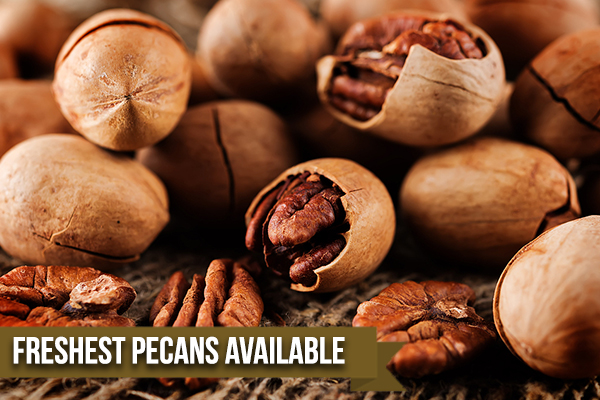 Pecans have a long shelf life, and large-scale producers take full advantage of that. That means the pecans you buy at the grocery store may be older than you think. Though they are pecans, they are not fresh, and you can definitely taste the difference when you try a fresh one. When you buy from an orchard, you are buying only fresh-picked pecans.
2. Your Pecans Are Not Heavily Processed
Major brands that sell pecans often use heavy food processing methods to package and ensure shelf life during transportation. If you read the back of these packages, many have a wide range of preservatives, colorants, and other additives that impact both the freshness and the flavor of the pecans.
Pecans bought straight from an orchard are minimally processed. They don't contain any extra additives.
3. You Have More Variety To Choose From
Pecan orchards offer a wonderful array of options. You can get pecans in the shell, shelled pecans, pecan pieces, and even pecan meal. Meanwhile, most grocery store pecans only come in halves. Having a variety of pecans reduces your prep work in the kitchen and allows you to try a wider range of great recipes.
4. You Will Be Supporting Small Family Businesses
Most orchards like Little Eva, where Natchitoches Pecans are grown, are small family-owned businesses. Supporting them ensures that future generations will be able to enjoy fresh, healthy pecans. Plus, like shopping at any small business, you will have better customer service and care.
If you are wondering where to buy pecans, skip the grocery aisle and order them directly from an orchard. At Natchitoches Pecans, our family is ready to take your order anytime. We have the finest Louisiana pecans and a wide range of products. Give us a call today at 1-318-379-0272, and we would be happy to answer any questions and help you find the perfect pecans.