Posted by wernuts2 on 1st Oct 2015
Caramel Popcorn Pecan Crunch will be a delicious treat to bring to tailgate parties or family gatherings to enjoy while watching the weekend football games. This easy recipe would also be a great idea to use for tasty gifts for the upcoming holidays. Find an attractive gift bag, fill it with pecan crunch, attach the recipe to the top and present it to the special people on your list. Pecans added to any recipe contribute to the
nutrition value
of that dish. Pecans provide antioxidants, anti-inflammatory and heart health properties.
Ingredients
20 cups popped popcorn 2 cups brown sugar 1 cup butter 1 tsp salt 1/2 cup corn syrup 1 tsp vanilla 4 cups large pecan pieces 1 tsp soda
Directions
Combine brown sugar, butter, salt and corn syrup in a large saucepan.
Bring to boil. Continue boiling for 5 minutes, stirring often.
Remove from heat and add vanilla and soda, stirring quickly. Pour over the popped popcorn and pecan pieces that have been placed into a large oven safe pan. Mix well.
Bake for 1 hour in a 250 degree F oven. Stir every 20 minutes.
Cool on large cookie sheets and ENJOY!
*Variation - Chocolate chips could be added for an extra taste for all the chocolate lovers. [caption id="attachment_494" align="aligncenter" width="300"]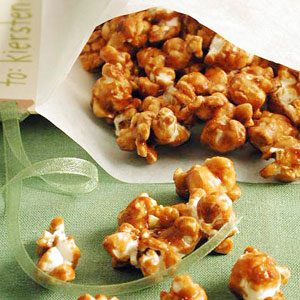 Caramel Popcorn Pecan Crunch[/caption]