Posted by wernuts2 on 27th Jan 2017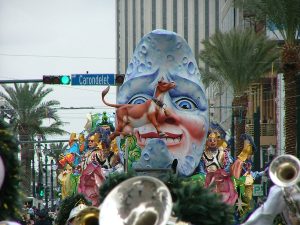 Mardi Gras is celebrated widely across the world, but is most known for the carnival celebrations in New Orleans. With New Orleans' incredible food culture, it's no surprise that best part of celebrating Mardi Gras is eating the food.
As a favorite Southern holiday tradition, it is no surprise that many of these great foods use another Southern favorite: Pecans.
If you are looking for something delicious to try to celebrate Mardi Gras this year, consider adding these classic pecan recipes.
King Cake
Is there any recipe that speaks to Mardi Gras more than King Cake? King Cake is a delicious cake roll made with bread dough or puff pastry wrapped around a delicious pecan filling. The cake is then iced with the traditional Mardi Gras colors of green, purple, and gold for good luck. Inside the cake is a small trinket, most often a small baby doll or a gold coin. Whoever gets this trinket in their slice of cake then has to either host the next Mardi Gras celebration or bring the King Cake. Here is our favorite King Cake recipe to use with our delicious pecans.
Praline Pecans
Praline pecans are another Mardi Gras dessert that is a classic must for anyone celebrating the holiday. Praline pecans are a delicious confection that is made with cream, sugar, and pecans and have a fudge-like texture with a bit of crunch from the pecans. Praline pecans are heavenly and you will not be able to stop after just one. If you are looking for delicious pralines to serve at your Mardi Gras party, check out Natchitoches Pralines made with a world famous pecans using a classic family recipes. If you are feeling ambitious, you can also trying making your own with our favorite recipes.
Pecan-Crusted Catfish
If you are looking for something a little more savory to add to your Mardi Gras feast that can even be carried through the entire Lenten season, consider a pecan-crusted catfish. The warm crunch and rich flavor or pecans pairs perfectly with the delicate texture of Southern catfish. The best part of this recipe is it is completely flexible. So if you don't like catfish you can use it with any other delicious gulf fish like grouper, flounder, or snapper. The recipe is super quick and easy but will impress even your pickiest guests! So when you're gearing up for Mardi Gras, don't forget to grab some Natchitoches Pecans. The delicious flavor of our Southern pecans will go perfectly in any of your favorite Mardi Gras classics!