Posted by wernuts2 on 25th Sep 2015
Natchitoches pecans is proud to announce that The Clementine Hunter Collection will be available to order on our website in early October. This unique collection will make great gifts for the upcoming holiday season along with our signature gourmet pecan gifts, pecan candies, and other pecan products for everyone on your gift list.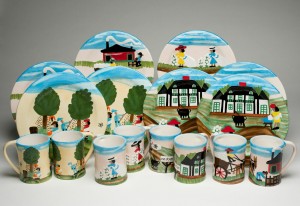 Doug Gitter created Gitter Gallery and The Clementine Hunter Collection because he wanted to share his love of contemporary American self-taught art with others and wanted to take artwork which was once affordable and make it affordable again so that others could enjoy a piece of American history. The hand-painted ceramic platters and bowls and dinnerware are 100% handmade and no two pieces are exactly alike. Each piece has its own distinctive shape whose textured surface allows you to feel the passion in Clementine's work. These pieces can be hung on the wall, displayed on a bookshelf, or used as favorite serving pieces for any occasion. All ceramics are food, microwave and dishwasher safe. Each of the Hand-Embroidered Pillows and Linen Hand Towels are works of art also.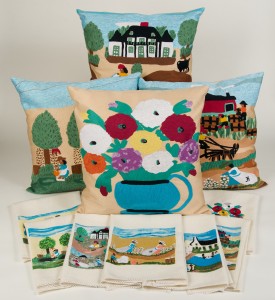 The pillows are embroidered on 100% organic cotton. It takes 2 artisans two weeks to create one beautiful pillow and each pillow is unique because each artisan has their own stitching style. Each hand towel is silk screened then embroidered by hand on 100% linen and is beautifully presented in a gorgeous organdy reusable gift pouch. With every purchase from The Clementine Hunter Collection, a portion of the proceeds goes toward preservation and interpretation of the Clementine Hunter House at Melrose Plantation, a National Historic Landmark.
Clementine Hunter is Louisiana's most famous artist and considered one of the most important self-taught American artists of the 20th century. Her work can be seen in the Smithsonian Institute, the New Orleans Museum of Art, the Museum of American Folk Art in New York, the Oprah Winfrey Collection in Chicago, and countless other museums and private collections across the country. Clementine, called Tebe by her family, was born at Hidden Hill Plantation in 1886.
Hidden Hill was renamed Little Eva Plantation in the 1950's. She moved to Melrose Plantation in 1902 where she lived the rest of her days until she died on January 1, 1988 around the age of 101. A self-taught artist without formal training, Clementine produced colorful paintings that depicted her memories of life on a southern plantation. She worked in the cotton fields and pecan orchards, and was later a domestic servant in the Big House at Melrose Plantation.
Clementine began painting "about 1940". She would paint scenes of baptisms, weddings, zinnas, fishing, playing cards, cotton picking and pecan picking. She would remember things and then sketch them out and paint them. We are especially fond of Clementine's Pecan Picking pieces since Natchitoches Pecans grows and offers for sale top quality Louisiana pecans grown on Little Eva Plantation.
According to Clementine, "I always liked to pick pecans. It was hard work. You had to stoop over a lot. You had to gather at least three hundred pounds or better a day to make it worthwhile. Extra money was made by pecan picking.
Life was hard, but if you toughed it out you could get by. During the times when money was scarce and they wasn't too much to eat, a pinch of snuff helped kill the appetite." As Christmas and Thanksgiving season is just around the corner, it is not too early to start considering gifts for those on your gift list. Go to www.natchitochespecans.com secure website to view our selection of fresh Louisiana pecan halves, cracked pecans, pecan gift tins, Clementine for the Holidays wooden pecan gift box, and many other pecan items. Corporate orders are welcome.