Posted by wernuts2 on 30th Aug 2019
Fall is quickly upon us. The hot weather will soon give way to cooler weather, changing leaves, and delicious smells. Pecan trees also begin to shed their nuts in the fall before the leaves begin to drop.
So, depending on the climate, pecan trees may begin getting harvested from late September through November - just in time for the holidays.
Fall Pecan Recipes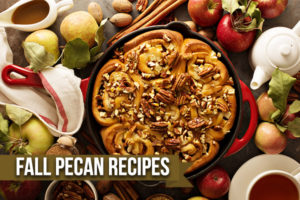 What are the holidays in the South without a few delicious pecan recipes made with fresh pecans? We have found a few of these delectable recipes to share with you today so you can get your pecans ready for their big debut.
Sugar Coated Pecans
  This is an easy recipe and makes for a great snack for on the go any time of the year. First, you need to visit the pecan store online to purchase your own batch of fresh whole or
pecan halves
. You will also need one cup of sugar, ¾ teaspoon salt, one egg, and half a teaspoon of ground cinnamon. Preheat your oven to 250-degrees — mix water and egg white to make a coating for your pecans. You then add the pecans to this mixture and then add in the spices to coat the pecans evenly. Bake on a baking sheet for about an hour, making sure to stir the pecans every fifteen minutes or so. Find the full recipe here.
Sweet Potato Pecan Waffles
Need a new pecan breakfast favorite? Here is another delicious way to use those
fresh pecan store online
pecans you just purchased. You will need a can of sweet potato puree, three egg yolks, a cup of milk, one and a half cups of flour, a tablespoon of baking powder and white sugar, a teaspoon of salt and ground nutmeg, a quarter cup of chopped pecans, three egg whites, three tablespoons of butter, two tablespoons of chopped pecans. Start by combining all your dry ingredients in one bowl and the wet ingredients in another, with the exception of the egg whites. You will then combine everything, mixing well. The egg whites should be beat until stiff peaks form, and they can then be folded into the rest of the batter. You can then cook them as you would any other waffle in your waffle iron and then garnish with the remaining chopped pecans.
Find the full recipe here
. Not a fan of baking? No worries. There are
plenty of treats
you can purchase online that are just as delicious as these home-baked goods. You can also find more tasty pecan recipes in the
Pecan Favorites Cookbook
. It contains over 200 pecan recipes made with fresh pecans.