Posted by wernuts2 on 10th Aug 2018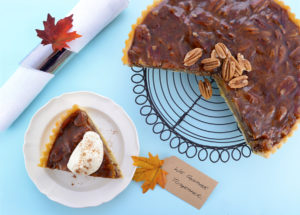 There are still a few holidays remaining in this calendar year, but one of the more notable ones is Thanksgiving. Many people give thanks and show their family members, friends, and acquaintances how much they care about them with food. Folks spend numerous hours in the kitchen preparing meals, baking desserts, and creating various other goodies. Unfortunately, when a person forgets one or two ingredients, the occasion can turn into a disaster.
Of course, a consumer can go to their local supermarket to try and find the needed components. Unfortunately, locating them at the last minute is easier said than done though. After all, other people in the area will be buying things for their meals too.
Rather than discovering shelves full of pecans, cranberry sauce, and different fixings, it is highly likely that the racks will be empty.
So, avoid these types of incidents and ensure the dinner party goes off without a hitch by ordering your pecans today.
Use Pecans On Or In These Dishes To Make Them Stand Out Salads
When people think of salads, leafy greens, tomatoes, and veggies are probably at the forefront of their minds. Not everyone enjoys the taste of these mixtures though, and it is not uncommon for them to become topped with cheese, croutons, or dressings to improve the flavor. Regrettably, a lot of these substances are unhealthy and fattening. Why not give your guests pecans as wholesome alternatives? They contain 19 vitamins and minerals, are high in fiber, and even lower cholesterol. Not to mention, the ingredient will give the salad a crunchy texture and rich, buttery taste.
Pies
Pecans are a required ingredient in one of everybody's favorite Thanksgiving desserts, pecan pie. There are a variety of different kinds, and any one of them is sure to delight your guests. Don't fret if you do not know how to create the delicious treats because an assortment of recipes can be found on our site. Feel free to take a look around and find the perfect solution to satisfy anyone and everyone at your function.
Cinnamon Rolls
Sometimes, Thanksgiving is an all-day affair. Guests even come to stay with people a few days before and after the festive occasion. If this is the case with your holiday, consider whipping up a batch of yummy cinnamon rolls for breakfast. Add the finishing touch by topping the treats with pecans. The savory taste will keep people coming back for more, and with any luck, the food will tide everyone over until lunch or dinner time.