Posted by wernuts2 on 23rd Dec 2016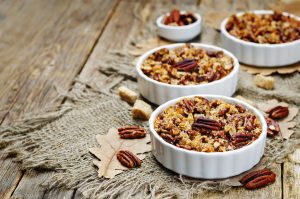 Between all of the entertaining, delicious flavors of the season, and fun edible gifts, the holidays are the best time of the year to cook. One of the most versatile and tasty ingredients for holiday cooking is pecans.
We've put together a list of our favorite seasonal recipes using pecans to help inspire your holiday menu. These recipes are simple to make and are sure to impress anyone.
Baked Brie is a decadent holiday treat. This creamy cheese wrapped in puff pastry and smothered in brown sugar pecans is a perfect appetizer to kick off your holiday meal. It's a very impressive starter, but is super simple to make.
Toasted pecans are a classic holiday tradition. The warm smell will fill your house with sense memories reminiscent of strolling through a Christmas festival. There are several recipes for toasted pecans that are perfect for the season, these toasted holiday pecans are our favorite.
If you are looking for something delicious to add to a treat bag or bring to a Christmas cookie exchange, pralines are perfect. These decadent sweets are a mix of candy and cookies and will delight both young and old. We love the old fashioned pecan pralines but there are some variations like the Louisiana and Cane River pralines that will be great additions as well.
Pecan divinity is a traditional holiday treat that dates back to the turn of the century. These lovely confections are perfect to give as gifts or to line your holiday dessert table. We may be biased, but we think out Aunt Dors' pecan divinity is the best we've ever had! When planning your holiday menu this year, make sure to include some of these amazing pecan recipes. If you have a favorite holiday recipe using Natchitoches pecans, let us know at nuts@natchitochespecans.com and we'll include it on our blog. We love to hear what our customers are making this time of year!