Posted by wernuts2 on 14th May 2017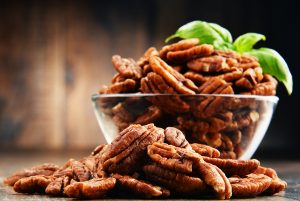 Summertime is almost here! There's nothing better to cool you down than a salad using fresh summer produce and Natchitoches Pecans.
To keep your summer salad menu fresh, easy, and bring some fun variety, here are some of our favorite summer salad recipes using pecans:
Berry Candied Pecan Salad With Lemon Vanilla Bean Dressing
Made with a mix of spinach, blackberries, raspberries, and candied pecans, then dressed with a light, creamy lemon vanilla dressing, this unusual salad brings the best summer flavors together. This recipe is super simple and if you use our Old Fashion Can Pecans instead of making your own candied pecans, you can make this exotic salad in minutes.
Spinach Strawberry Avocado Pecan Salad
There are few things more delicious in the summer than strawberries. The sweet soft strawberries paired with crunchy pecans, creamy avocado, and crisp spinach, provide not only a delicious taste but a great texture. The best part about this recipe is you can make it ahead of time and pack for lunches during the week.
Orange Pecan Kale Salad With Citrus Tahini Dressing
If you are looking for a superfood salad, this recipe has all you need. The antioxidants of oranges, healthy fats of pecans, and phytonutrients of kale. Dressed with a light, creamy protein rich dressing, this salad provides all the nutrients you need to keep your energy up. Even better, this salad is completely paleo, dairy, and gluten-free, so no matter what your diet, you can enjoy it!
Roasted Beet And Arugula Salad With Maple Balsamic Dressing
Beets are a summertime favorite. Roasted to perfection, mixed with spicy arugula, sweet crunchy pecans, and creamy goat cheese, this salad is more gourmet experience than meal. We recommend topping this salad with our Old Fashioned Rum Pecans to add a delicious dimension to the maple balsamic dressing.
Easy Chicken Melon Salad Bowls
Hollowed out melons make the perfect bowl for this sweet and savory chicken salad. With just a few simple ingredients like melon, lime, and chicken, this salad is easy to make but impressive if you want to serve something for a summer brunch. Topped with a poppy seed dressing instead of mayonnaise, this salad is also low in calories. These salads will help you kick of the summer season in a delicious way. For other great salad ideas and summer recipes using our world-renown pecans, check out the recipe section of our website or follow our blog.