Posted by wernuts2 on 4th Aug 2017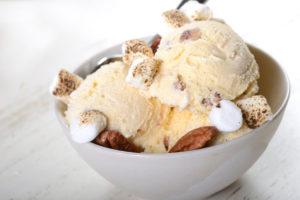 There's nothing better than homemade ice cream to beat the summer heat.
Pecan flavored ice creams are especially delicious because they add a sweet, smoky flavor to balance against the creamy richness, but also add a little crunch.
Here are some of our favorite ice cream recipes to try with Natchitoches Pecans:
Buttered pecan ice cream is one of the most classic flavors of ice cream and for good reason. The flavor cannot be matched. Made at home with high-quality Natchitoches Pecans makes it even better. Put a scoop of this on a slice of pecan pie and we're pretty sure we've found flavor heaven.
Pecans, peaches, and bourbon are some of the best Southern flavors. Combined into an ice cream makes a treat you can enjoy no matter where you live. We love the brightness of the peaches paired with the rich decadence of bourbon and the crunch of pecans. This recipe is a must for this summer!
We wouldn't forget the chocolate lovers! German chocolate cake is one of our favorite ways to use pecans. Turning those flavors into an ice cream and we can't think of a better way for us chocoholics to enjoy our pecans this summer.
Looking for a homemade ice cream recipe that doesn't require an ice cream maker? We've got your covered. This delicious cinnamon pecan cashew ice cream is made in your blender and then just frozen. It also uses healthy ingredients, so you don't have to feel guilty when you indulge.
Many people think of pumpkin as a fall flavor, but added to ice cream it makes a great summer treat. Mixed with the sweetness of maple and the buttery crunch of pecans, you'll want to eat this frozen pumpkin treat all year long! To really enhance the flavors of your ice cream, make sure you are only using the best pecans. Natchitoches Pecans are world renown for their rich and buttery flavor. Also, if you don't feel like making ice cream from scratch, you can also just toss a handful of our candied pecans on top of your favorite flavor ice cream for a quick and easy summer treat.