Posted by wernuts2 on 17th Feb 2017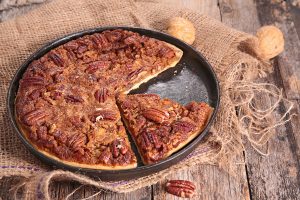 Is there anything more delicious than a homemade pecan pie?
This classic dish defines Southern cuisine and delights people across the country. Served with a little whipped cream, ice cream, or for the adults, bourbon sauce, is the perfect way to end any meal. We've collected some of our favorite pecan pie recipes, so you can go nuts for this Southern classic.
If you love cheesecake and pecan pie, you should definitely make our four-layer pecan pie. This delicious pie has a thick layer of creamy cheesecake like filling right in the center. Layered carefully on a delicate flaky crust and topped with crunchy pecans, this pie offers both an incredible flavor and unique texture everyone at your table will love.
This pecan pie is a perfect dessert for any chocolate lover. It's a spin on the classic pecan pie that simply adds melted chocolate chips to the filling. The combination of chocolate and pecans is sensational and will have you coming back for seconds!
If you are looking for a great spring time recipe for brunch or tea service, this strawberry pecan pie recipe is wonderful. The filling is a wonderful mix of fresh strawberries, crunchy pecans, and warm cinnamon. The crust, laid is a classic lattice design, makes this an impressive dish to serve as a standalone treat or as a great finisher to a wonderful meal.
For a spicy take on a classic pecan pie, try this cayenne pecan pie. The small dash of cayenne pepper highlights the flavors of the pecans and offers a new flavorful unlike anything you've ever had before. The sweet spicy combination is set off even further with a touch of vanilla. This pecan pie is perfect for the adventurous foodie.
Finally, our favorite pecan pie is our utterly deadly pecan pie. Why utterly deadly? Well, you can't stop after just one slice. Made in an old-fashioned cast iron skillet, using a classic pecan pie recipe, you will be completely addicted to this delicious pie after just one bite. The best part, is it is so simple to make that no matter what your culinary skills, you can whip one up anytime. Whichever recipe strikes your interest, always make sure you make your pecan pie with the best quality pecans in the world. At Natchitoches Pecans, we had the most delicious, hand-selected pecans, available in a variety of styles for all your baking needs. No matter what pie you decide to make, you can be sure it will be delicious with Natchitoches Pecans. Also, if you are looking for more pecan pie recipes you'll go nuts for, check out our full list on our website.