Posted by wernuts2 on 24th Mar 2017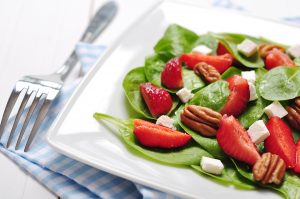 Spring is finally here and with it comes warmer weather and fresh garden greens. For a light meal to beat the heat, there is nothing better than a salad.
However, having just a plain salad can leave you feeling unsatisfied, so to add a little heartiness without the heaviness, consider making a delicious salad with pecans.
Here are some of our favorite salads that use pecans you should try this spring.
1. Strawberry And Spinach Salad With Honey Balsamic Vinaigrette
Fresh garden spinach is best in the springtime. It's sweet and crunchy with no bitterness. This salad highlights the best flavor of Spring by adding caramelized pecans and sweet seasonal strawberries. Finished with a delicious tangy-sweet vinaigrette and sharp gorgonzola cheese, this is one of our favorite Spring salads featuring pecans.
2. Pecan Chicken Salad
Chicken salad is delicious on a bed of greens or spread between two slices of your favorite artisanal bread. This southern recipe uses cracked pecan halves and Creole-style mustard for a Southern style flavor you'll love. The pecans add a crunch to the creamy salad and their salty, hickory flavor imparts an extra kick of flavor to the chicken.
3. Warm Halloumi With Radish, Apples, And Pecans
This salad is perfect to serve for dinner. The warm halloumi paired with spicy seasonal radishes and lamb's lettuce (mache) are balanced beautifully with the tart sweetness of apples. Cracked pecans add a perfect crunch and pair wonderful with the creamy, melted halloumi cheese.
4. Apple And Grape Salad With Pecans
If you are looking for a perfect fruit salad to eat at lunch or for breakfast, look no further. Our apple and grape salad tossed with pecan halves and served on a bed of butter lettuce, you won't find a more refreshing salad for springtime. We do recommend making an extra helping of the honey glazed pecans to have later as a snack.
5. Strawberry Pecan Pretzel Salad
Who can forget a delicious dessert salad? This salad uses seasonal strawberries, crunchy brown sugar candied pecans, and salty pretzels. They are then mixed together in a decadent, cheesecake-like sweet cream cheese mix. This light and crunchy dessert salad is so delicious, you'll want to eat the whole bowl! If none of these recipes tickle your fancy, you can always make a
toasted pecan vinaigrette
to drizzle on top of your favorite salad recipe. At Natchitoches pecans, we love hearing from our customers. If you have a favorite pecan salad recipe that isn't listed here, let us know at
nuts@natchitochespecans.com
and we'll feature it on an upcoming blog so everyone can try it!