Posted by wernuts2 on 28th Jul 2017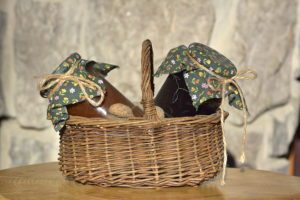 Canning is one of our favorite hobbies. It's a great way to preserve all the delicious flavors of your summer harvest, stock your shelves with healthy, nutritious foods, and make some beautiful handmade gifts your friends, family, and neighbors will cherish.
Pecans can be a great addition to your canning.
They preserve well and there are tons of really delicious pecan canning recipes. Here are some of our favorites:
If you are a pecan pie addict, canning a couple of jars of pecan pie filling can make sure you are always ready to make your favorite dessert. Once canned, you simply pour the mixture into a pie shell, top with pecans and bake. Couldn't be easier!
Combining the very best flavors of the South, this decadent jam is a must for your pantry. Peaches, Louisiana pecans, and amaretto are an incredible taste pairing that is a perfect spread for brunch, tea time, or any occasion you are craving a Southern treat.
If you are looking for a quick gift and are new to canning, this Pecan Praline Sauce is perfect. Poured over ice cream, cake, or even popcorn, anyone will love this versatile treat. Unlike the other recipes, this sauce is a refrigerator preserve, so it's great for first-time canners to try out.
This delightful recipe can turn even your morning toast into pecan pie. We love this unusual spread on pancakes, as the filling in cinnamon rolls, and onto of shortbread cookies. It's perfect anytime you want the flavor of pecan pie but don't have time to cook.
It's never too early to start thinking about your Thanksgiving menu. This rich and flavorful cranberry conserve is a delicious alternative to the standard can of cranberry sauce. It pairs perfectly with your Thanksgiving turkey but can also be added to cheese plates or spread on biscuits for a delicious anytime snack. This recipe also makes a great seasonal gift. This year when you start your canning, don't forget to grab a bag of Natchitoches Pecans. They are an incredibly versatile pantry item and make some truly unique canned goods.